UTM Culture Corner 15.0 | 27 September 2018 (Thursday) | 7:45-10 pm |
The Sino, Kolej Perdana, UTM JB
Theme :- Food & Friends
This is the first Culture Corner for the semester, Culture Corner 15.0 with the theme 'Food & Friends. As it is all about the traditional food, the night started off as it always does with "Cuppa Time", casual conversations over coffee, tea, biscuits and sandwiches. Before the activities began, group selfies were taken as both initiation for the many newcomers and also as a way for everyone to feel at home with each other. The photos were uploaded to social media with the hashtags #utmculturecorner#utmawesome#utmstudentexperience #cuppatime.
Our moderator for the night was Dr Farhana Diana binti Deris , the Manager (Partnership) from UTM International. She got the ball rolling by giving instructions on the first activity, "Doodl-iesta!", which the participants were taught some basic greetings and conversation in Malay Language. Next we moved on to "Food Fiesta", where the representatives from selected participating countries gave presentations on their traditional food. The selected countries were Bangladesh (Khichuri & Egg Bhuna), Yemen (Chicken Mandi), Indonesia (Bakso) and Malaysia (Nasi Ambeng). Right after that, the next activity was "Dinner the Great!" where all of the participants got the chance to taste all the food which was explained in the previous session.
The evening then reached its height of excitement with six questions of Kahoot, led by Ms Fasihah Jaslan, Manager(Mobility) a session never failing to be filled with thunderous applause and cheer. Participants were tested on their new-found knowledge and attentiveness, where three winners emerged in the end. Congratulations to the winners!!
Any Culture Corner would not be complete without a sing-along session, this time with the song "Lucky" by Jason Mraz, led by our Culture Corner lead singer Ms Siti Norziahidayu Amzee, Head of UTM Global Buddies.
Group photos marked the end of our fifteenth Culture Corner. Our wishes as always is that the bond during the event will last beyond the confined of the venue and we sincerely hope that the students gained tremendously from each other during the interaction and sharing.
Keep following our Facebook Page (UTM International Student Experience) for more interactive and interesting students activities in UTM.
It is our hope that the friendships, networks and bonds built throughout Culture Corner will persistently last. It is also our heartfelt expectation that the students have gained immensely during the interactions and sharing. Stay tuned to our Facebook Page (UTM International Student Experience) for more engaging, captivating and educative activities inside and outside of UTM.
Yours Sincerely,
Assoc. Prof. Dr Mohd Ariffin bin Abu Hassan
Manager (Student Experience)
UTM International
#UTMculturecorner #UTMstudentexperience #UTMmobilityprogram#UTMexchange #IamUTM #UTMawesome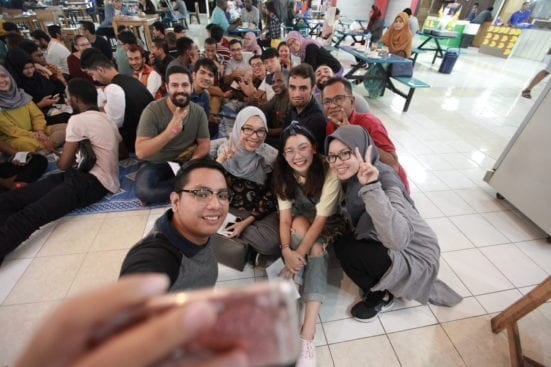 Photo credit Datuk Supandi