JOHOR BAHRU, 18 Oct – Eight postgraduate students from the Centre of Lipids Engineering & Applied Research (CLEAR) under the School of Chemical & Energy Engineering (SKT) have initiated and organized an international program called "Green-Tech Asian Journey: Supercritical Fluid Extraction".
This program was a joint collaboration between SKT UTM and College of Engineering, Jeju National University, South Korea to promote Supercritical Fluid Extraction (SFE) green technology to Malaysia especially in the health and pharmaceutical industry.
It began on 9 October 2018 when the students along with the Program Advisor, Assoc. Prof. Dr. Mohd Azizi Che Yunus visited the Department of Food Bioengineering, Jeju National University to get an exposure to the latest development of SFE industry in the Asian region.
The program provided SKT students the opportunity to interact with 12 students from their department through various activities such as Language Interactive Learning, JNU Campus Tour, Microencapsulation Lecture and Cultural Night.
Throughout the program at JNU, SKT students were able to exchange knowledge and to learn about local students' culture.
Besides, they also learnt about the Subcritical Water Extraction, a new technology implemented in food processing from one of their lecturers, Prof. Sang Bin Lim. During the visit at one of their laboratories, SKT students gained hands-on experience in operating one of their industrial-scale equipment on food processing.
CLEAR is one of the research centres in Ibnu Sina Institute for Scientific and Industrial Research (ISI-SIR) that has worked on many research projects in the SFE area.
Recently, CLEAR has gained trust from an industrial company, Eco Bee Shop Sdn. Bhd. and signed a Letter of Collaboration (LoC) to further strengthen the cooperation and to provide consultation services to the company in improvising their production by using SFE process as it has become one of the tools for green technology on extraction process in Malaysia.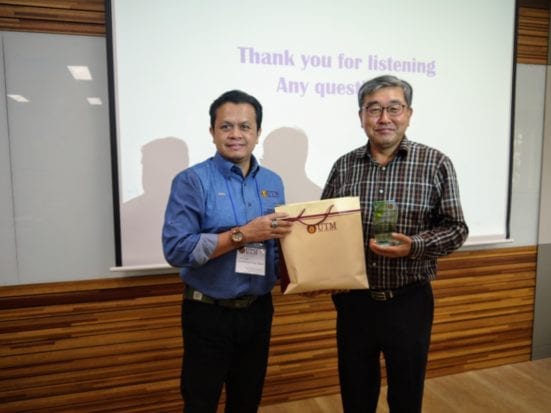 Assoc. Prof. Dr. Mohd Azizi Che Yunus giving token of appreciation to Prof. Sang Bin Lim.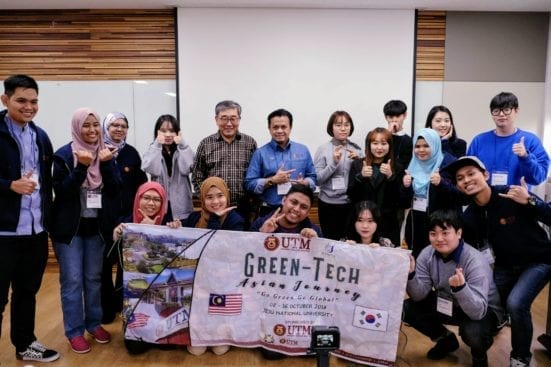 SKT students and JNU students having good time together.