JAPAN 9 Oct – The Institute of Bioproduct Development (IBD) had successfully conducted the first non-academic workshop on management of research institute with Shizuoka University, Japan (SZU). This is a breakthrough workshop for the University which involved the non-academic staff to cooperate internationally and to learn the best practice in management of research organization.
The workshop was held in the Meeting Room, Sougou 221 at 13:30 in the afternoon with the presentation topics as follows :
Introduction of Shizuoka University: Research, Industry – University Cooperation and Technology Transfer by Prof. Masakazu Kimura, Trustee (Research, Community and Industrial Cooperative Affairs) / Vice President & Director, Organization for Innovation and Social Collaboration.
The Importance of a Good Organizational Structure on Increasing the Performance of Research Organization by Mr. Mohd Hatta Md Sodari, Senior Assistant Registrar of IBD UTM.
Industrial and International Research Grant and Collaboration Opportunity by Mrs. Hartini Darsono, Deputy Registrar of Research Management Center (RMC), UTM.
Roles and Function of Research Cooperation Section at Shizuoka University by Ms. Naoko Taga, Secretary of Research Institute of Green Science and Technology (RIGST)
Safety Management in a Research Institute by Mr. Mohamad Saat, Engineer of IBD UTM.
Safety and Hygiene in Shizuoka University by Mr. Taichi Kemmochi, Technical Support, Division of Technical Service.
Creating of Sustainable Income Generation for Research Organization by Mrs. Siti Hajar Abu Bakar, Senior Assistant Accountant of IBD UTM.
This workshop is programmed to run as an annual event between non-academic staff in both UTM and SZU alternatively. This will help to implement the learning organizational culture of all levels. The host institute also contributed in the program technically and financially by sponsoring the accommodation for the delegates. The same program is scheduled to be held in the third quarter of 2019 and IBD will be the host.
The delegates also visited International Affairs Division, Finance Division, Facilities Division and Student Residential in Shizuoka University; International Affairs Division, Library, many labs in Toyohashi University of Technology; Centre of Creative Engineer and Innovative Photonics Evolution Research Centre of Shizuoka University, Hamamatsu Campus.
Besides exposing the cultural and social differences between Japan and Malaysia to the delegates, this program is to expand cooperation between the two universities in strengthening bilateral ties not only in research but also in management and international student exchange or staff exchange. The program had opened the mind of administrators to become more creative, proactive and innovative through observation and dialogue to have more global and open minded thinking. As a result, the ultimate objective of establishing networking and international links for future collaborative opportunities in research, development and consultancy has shown brighter prospective.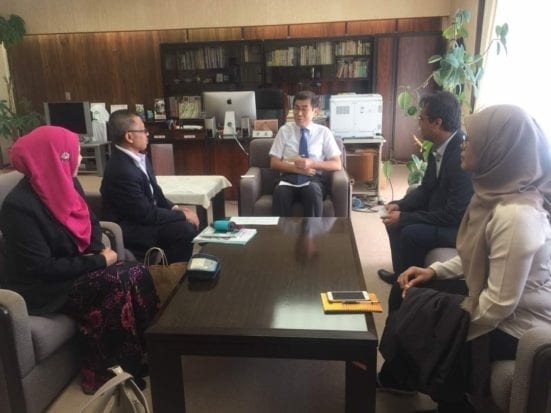 Courtesy visit to President Office and meeting Mr. Kiyoshi Ishii, the President himself.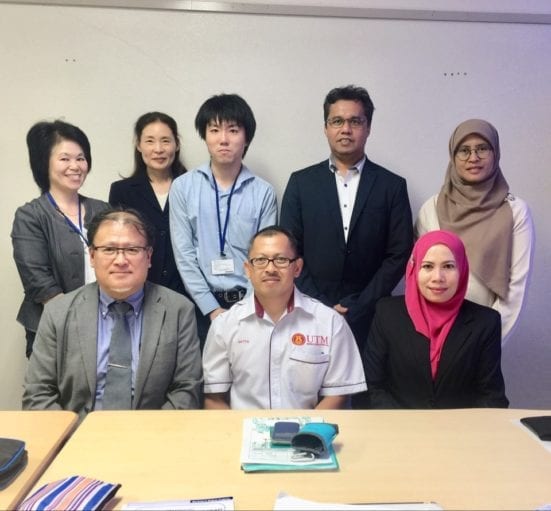 Picture after the workshop program. Seating from left to right is Prof. Masakasu Kimura, Mr. Mohd Hatta and Mrs. Siti Hajar.
Standing from left to right; Ms. Junko Sugaya, Ms. Naoko Taga, Mr. Taichi Kemmochi, Mr. Mohamad and Mrs. Hartini.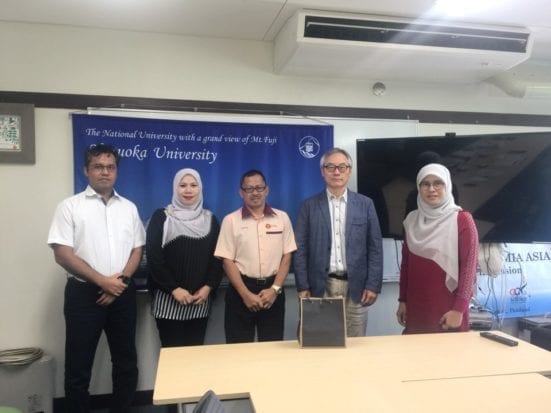 This workshop and trip were made possible with the help of Prof. Enoch Y. Park, Director of RIGST (standing fourth from right) and Ms. Junko Sugaya, Manager of International Affairs Section (not in picture)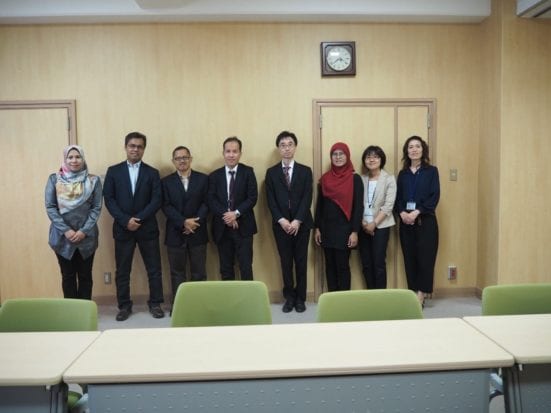 Picture after the program at Toyohashi University of Technology. From right; Ms. Mamiko Tsutsumi, Ms. Kiyomi Takegawa both Officers from International Affairs Division of TUT, Mrs. Hartini, Mr. Kengo Ota, Officer, International Affairs Section of SZU, Mr. Kiyohiko Kuroda, Director of International Affairs Division of TUT, Mr. Mohd Hatta, Mr. Mohamad and Mrs. Siti Hajar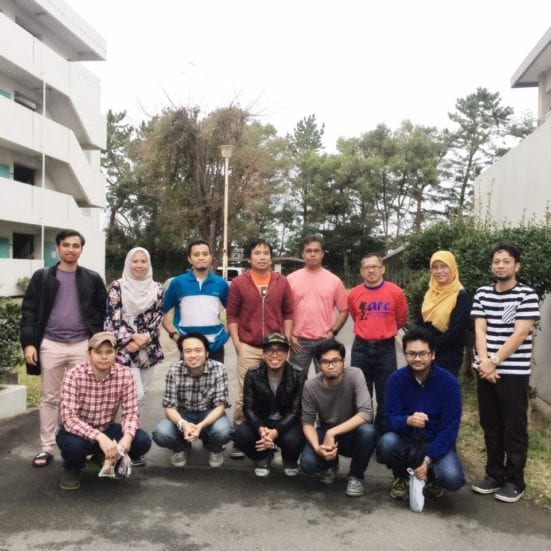 We met some of Malaysian students and Malaysians employed in Japan at Hamamatsu campus.
website : utm.my/ibd