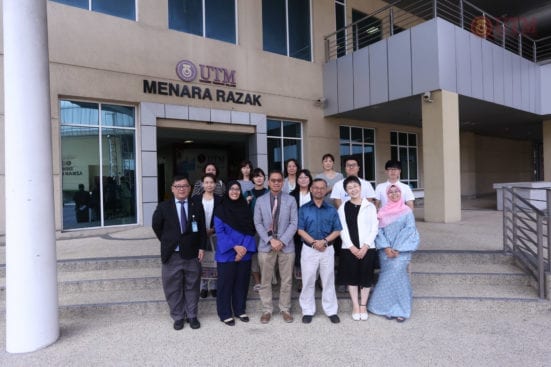 Kuala Lumpur, 10 August 2018 – UTM Kuala Lumpur received a courtesy visit from The Consortium of Universities in Osaka involving (7) universities namely Osaka City University, Osaka University of Economy, Osaka Jogakuin University, Setsunan University, Aomori Chuo Gakuin University, International Christian University and Ehime University. This consortium consists of 42 members from 55 universities in Osaka. Their arrival was also in conjunction with the 16th Asia Pacific Student Services Association International Conference 2018 at UTM Kuala Lumpur.
Delegates were presented with the slide presentations from Razak Faculty of Technology and Informatics by Assoc.Prof. Dr. Nor Zairah; Assistant Dean of External Relations and Global, Dr. Norhayati Abdullah; International Coordinator from Malaysia-Japan International Institute of Technology (MJIIT) and Azman Hashim International Business School by Dr. Suzilawati Kamarudin. Also present was Mr. Alvin Tan from UTM SPACE.
The discussions had touched on academic matters, recent developments in the consortium, and differences of work culture among staff, students exchange, staff attachment and partnership. UTM also expressed interest in joining this consortium if given the opportunity.
At the end of the visit, the delegations were taken to visit the Advance Robotics lab located at Level 6 of MJIIT Building.