Since the year 2015, the Materials Lecture Competition, MLC has been hosted by selected Higher Education Institutions in Malaysia on a rotational basis. This year, the School of Graduate Studies, UTMKL has been given the honour to host the 7th edition of MLC 2018 at the Azman Hashim Hall, UTM Kuala Lumpur in collaboration with the Institute of Materials Malaysia (IMM) and Institute of Materials, Minerals, and Mining (IOM3), UK.
This annual event is an initiative aimed to serve as a platform for young university students, researchers and engineers in Malaysia to communicate and showcase their capabilities and knowledge on issues pertaining to materials and their roles in society. MLC also helps to stimulate students' communication competencies development required for their future postgraduate study pursuance or professional surroundings.
The semi-final of MLC 2018 held on 5th April 2018 was participated by 11 public and private universities in Malaysia. Astonishingly, Ms Norkhalizatul Akmal Mohd Jamil from UTM Razak School was selected as the top five finalists to compete in the final round on 3rd May 2018. The other four participants were Nur Najwa Aqilah Kamrul Zaman from UTeM, Ng Sook Hui from UniMAP, Andrew Ng Kay Lup from UM and Raffaella Pian Cheau Mei from UTP.  The first-prize winner of MLC 2018 will represent Malaysia in the Young Persons' World Lecture Competition (YPWLC) 2018 in Cape Town, South Africa in October 2018.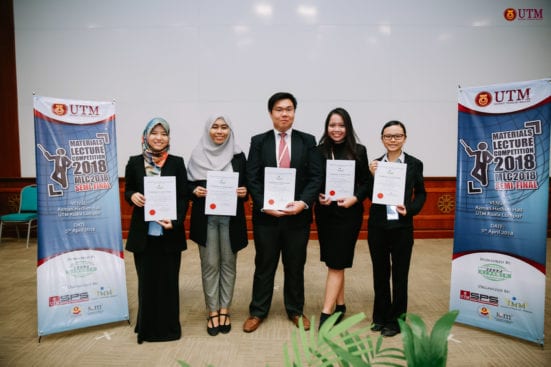 From left: Nur Najwa Aqilah (UTeM), Norkhalizatul Akmal (UTM), Andrew Ng (UM), Raffaella Pian (UTP) and Ng Sook Hui (UniMap)