THREE STUDENTS FROM FACULTY OF BUILT ENVIRONMENT, UTM WON PAM-ZSR ARCHITECTURE PRIZE 2017
Kuala Lumpur, May 3, 2018 – UTM Architecture students have won prizes of the PAM-ZSR Architecture Prize 2017. Rashidah Jimi Sham and Wilson Tan Xern EE both emerged Category 2 winners and each took home RM5,000 and certificate of victory; while Koh Jhee Son emerged as a finalist and took home RM500 as well as a certificate.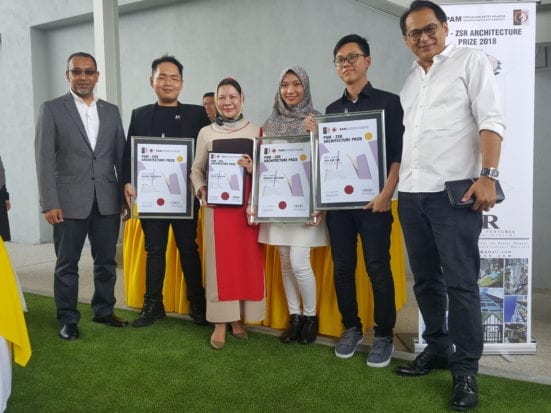 Rashidah participated in the Dual Function Center for Flood, Relief and Mitigation project under the supervision of PM Ramli Jamaluddin. Wilson competed in the High Water Research Center project under the supervision of Dr Lim Yaik Wah, while Jheson was involved in Rethink Social Housing under the supervision of Ar Samsiah Abdullah.
The PAM-ZSR Architecture Prize 2017 ceremony was held at Melawati Corporate Center, Melawati, Kuala Lumpur. Ar Norzaini Mufti, Director of Z & SR Architectural Ventures Sdn Bhd and Ar Ezumi Harzani Ismail, President of the Association of Malaysian Architects handed over prizes to the winners.
A total of 65 entries were received from Public and Private Institutions of Higher Learning recognized by the Board of Architects Malaysia (LAM). Two categories have been contested based on two levels of competency, namely LAM Part 1 and LAM Part 2. Two of the Part 2 Category were won by UTM. From the five Part 2 finalists, the winners were UTM (2) and University of Malaya (1). Of the nine Part 1 finalists, the winners were Taylor's University (2), Tun Abdul Razak University (2) and Universiti Sains Malaysia (1).
The panel of jury  consisted of Ar Ezumi Harzani Ismail, Ar Mohd Helmi Md Hanif, Ar Adrianta Aziz, Prof Ar Dr Abdul Razak Sapian, Ar Amzar Ahmad, En Hizwani Hassan and Muhammad Firdaus Jamal. Selection criteria were based on attributes, design excellence, innovation, sustainability and buildability. The success of those students speaks highly of the quality of architecture program and the dedication of academic staffs in Malaysia.
For further information :
Associate Professor Dr. Gurupiah Mursib
Institut Sultan Iskandar
Universiti Teknologi Malaysia
Jalan Sultan Yahya Petra
54100 Kuala Lumpur
Contact No.: 013-7520051
E-mail: b-rubi@utm.my