West Asian Civilization (WAC) Research Group from the Faculty of Islamic Civilization Universiti Teknologi Malaysia is kindly inviting all staff and students to the INTERNATIONAL SEMINAR ON NAKBAH, THE LARGEST HUMAN TRAGEDY PAST, PRESENT & FUTURE on 12th-13th May 2018 at UTM Kuala Lumpur.
The current situation of Palestine needs undivided attention from all around the world in order to resolve the longest conflict in human history of the modern era. The Western powers' plot and the UN support to partition 'the Land of Palestine' in November 1947 triggered the critical situation which marks the beginning of Palestinian struggles for independence. 2018 marks the 70 years of Nakbah since 1948 when Israel repelled Palestinian attacks and expanded their control zones by thirty percent, after which the Arab-Israel wars over Palestine began.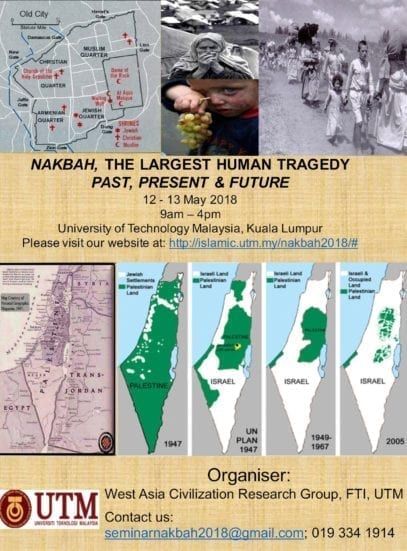 This seminar is an attempt to discuss and find possible ways to resolve the conflict with harmony and peaceful reconciliation.
It is aimed to examine the challenges of co-existence between major religions as such Judaism, Christianity and Islam, especially after the Nakbah tragedy, to analyze the role of regional and trans-regional powers as pulling and pushing factors towards the prospects of Palestinians. The seminar also will be evaluating the impact of 2017 Reconciliation Agreement between Hamas and PLO as well as President Trump's declaration.
For more information, please refer to this website:
http://islamic.utm.my/nakbah2018/