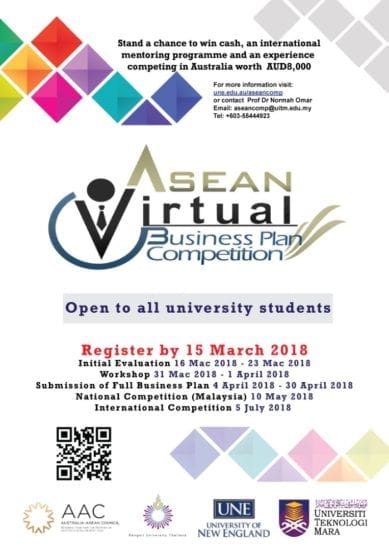 KUALA LUMPUR, 1st APRIL 2018 – The two days ASEAN Virtual Business Plan Competition workshop happened at UiTM, Shah Alam on 31st March and 1st April 2018. The workshop is aimed to prepare the participants for the ASEAN Virtual Business Plan Competition which will happen from April to June 2018. Four UTM students have been selected to participate in this competition, they are Ibnu Najah bin Abd Hamid, Yap Sin Yee, Muhammad Luqman Wafiy bin Abdul Muiz, and Syafiq. Among them, three are 5 Excellence Tracks Programme members.
This competition is supported by the Australian Government through the Australian-ASEAN Council (AAC) of the Department of Foreign Affairs and Trade and involves institutions in three countries: Rangsit University in Thailand, Universiti Teknologi MARA in Malaysia and the University of New England in Australia. Each of these three universities will organise a national business plan competition and the winning teams from each country will pitch their ideas virtually to a panel of international judges.
The winning Australian team will be mentored to develop their idea into a business while the winning team in the international competition will receive, in addition to business mentoring, a visit to one of the ASEAN countries to explore an export market for their product.