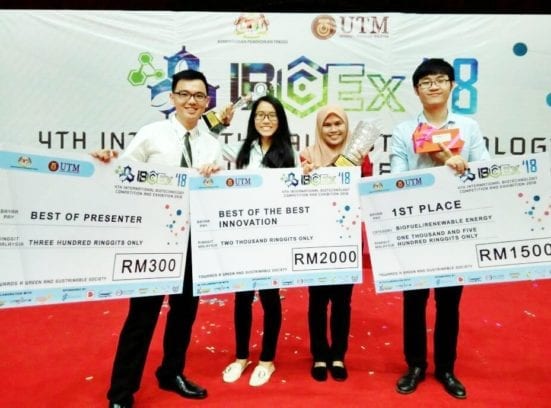 The 4th International Biotechnology Competition and Exhibition (IBCEx 2018) was held on 13-14 April 2018 at Dewan Sultan Iskandar, Universiti Teknologi Malaysia. IBCEx 2018 is an innovation competition organized by Bioprocess Engineering Student Society (BIOSS), from Faculty of Chemical and Energy Engineering (FCEE), Universiti Teknologi Malaysia, Johor Bahru, Johor. Carrying the same concept from the previous IBCEx 2017, this program is organized to provide a great opportunity for undergraduate students from various local and international institutions to compete and exhibit their creative innovations in biotechnology throughout this competition.
This year, 19 teams from local universities (5 teams from UTM) and 18 teams from international universities took part in the competition. The competition was divided into three categories: Environmental/ Wastewater Treatment, Renewable Energy/ Biofuel and Green Building/ Green Technology Product.
Dr. Zanariah Hashim from Food and Biomaterial Engineering Research Group (FoBERG), Faculty of Chemical and Energy Engineering, UTM with her team members Lau Tze Qin, Boon Cheng Kai and Hoh Shee Ching, all final year Chemical-Bioprocess Engineering bachelor degree students, won the first place in the Renewable Energy/ Biofuel category. The team also bagged the "Best of The Best Innovation" Award. In addition, Boon Cheng Kai won the Best Presenter Award. The team presented their innovation entitled "Candles from waste cooking oil". In this project, the team converted waste cooking oil collected from cafeterias around UTM into candles, substituting the conventional candles from paraffin wax which is potentially hazardous to human health.
Other winners include "Wound healing niosomal gel enriched with Hempedu Bumi and Manjakani" from UTM (first place for Green Building/ Green Technology Product category) and "Nanosized quantum dots for water remediation" from Universiti Tunku Abdul Rahman, UTAR (first place for Environmental/ Wastewater Treatment category).