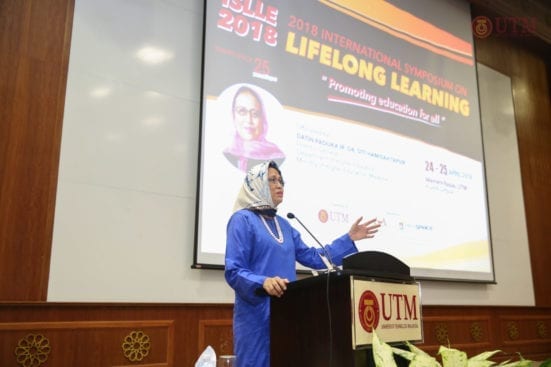 The 2018 International Symposium on Lifelong Learning (ISLLE 2018) has taken place in UTM Kuala Lumpur from 24 – 25 April 2018.  The ISLLE 2018 is the inaugural symposium on lifelong learning organised as part of a series of events to commemorate the 25th anniversary of the School of Professional and Continuing Education (SPACE), which was established in July 1993.  The objectives of ISLLE 2018 are as follows:
To deliberate on issues and challenges related to lifelong learning
To promote best practices in lifelong learning within the sector, and
To stimulate collaboration between providers of lifelong learning, government agencies, the industry and community.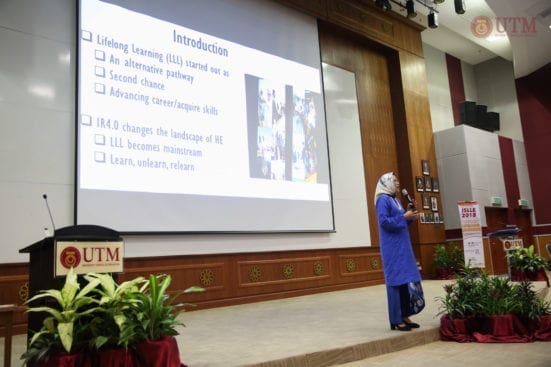 YBhg. Datin Paduka Ir. Dr. Siti Hamisah Tapsir, Director-General, Department of Higher Education, Ministry of Higher Education Malaysia has kindly graced the symposium by presenting the keynote and officiating address.
The Fourth Industrial Revolution (4IR) has emphasised the need to redesign the education system as well as to enhance, reskill and upscale talents.  Hence, it is crucial for Malaysian higher learning institutions to produce talents who are agile and adaptive to the changing demands of the 4IR.  Experiential learning, future-ready curriculum and lifelong learning mind-set are critical elements in uplifting the graduates' skills and attributes to thrive in the gig economy which has become a trend nowadays.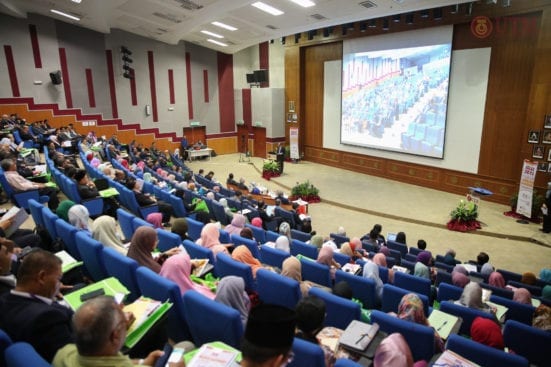 Lifelong learning creates the opportunities to learn, unlearn and relearn. It can be accomplished through distance learning, e-learning, as well as workplace and part-time learning.
/ School of Professional & Continuing Education (SPACE)