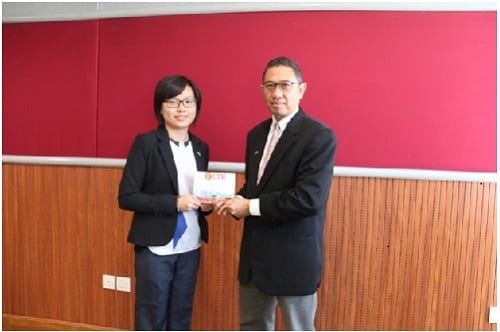 Kuala Lumpur, 15 March 2018 – UTM Kuala Lumpur received a courtesy visit from the Trade Commissioner from the High Commission of Canada in Malaysia, Ms. Bethany Tien Hui Ling.
Her arrival was warmly welcomed by Assoc. Prof. Dr. Abd Rahman Abdul Rahim from UTM International Kuala Lumpur.
The purpose of the visit was to introduce the Canada-ASEAN Scholarships and Education Exchanges for Development (SEED) which was announced by the Government of Canada in August 2017 for students who wished to pursue their study or conduct research in Canada. SEED intends to provide approximately 200 scholarships in 2018-2019.
There are also other Canadian scholarships and awards available for qualified Malaysians such as the Banting Postdoctoral Fellowship, Canadian Queen Elizabeth II Diamond Jubilee Scholarship, CIFAR Global Scholars, IDRC Doctoral Research Awards, Mitacs Step, and the Trudeau Doctoral Scholarships.
She also provided a list of more than 200 universities and educational institutions in Canada for UTM to consider establishing academic cooperation.
Acting as a representative to the High Commission of Canada, she is ever willing to offer a helping hand to see the cooperation between UTM and the Canadian universities materialise.
With UTM's participation in and Canadian universities' presence at APAIE 2018 Conference and Exhibition that will be held from 25 to 29 March this year, it would be a great opportunity for both parties to learn and benefit from each other.