JOHOR BAHRU, 19 February 2018 – TOLKIDZ team from the Faculty of Management, Universiti Teknologi Malaysia (UTM) was among  the Top four finalist in the Sustainability award category of the Bangkok Business Challenge 2018.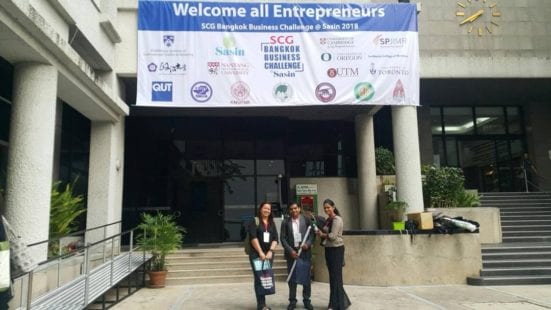 The team brought back USD 1500 as reward to be the top four finalist in the Sustainability Award among 16 teams.
The only team from Malaysia, the TOLKIDZ  team comprised of Prof. Dr. Zainab Khalifah (advisor), Logaiswari Indiran (Team Leader), Hishan S. Sanil and Liew Foong Ching.
The team was chosen as one of the 16 semi-finalist to compete in the Bangkok Business Challenge (BBC).
BBC is the only global intercollegiate post-graduate start-up competition to encourage students across the globe to become more entrepreneurial. The event was taken place in Bangkok, Thailand from 8th to 10th February 2018.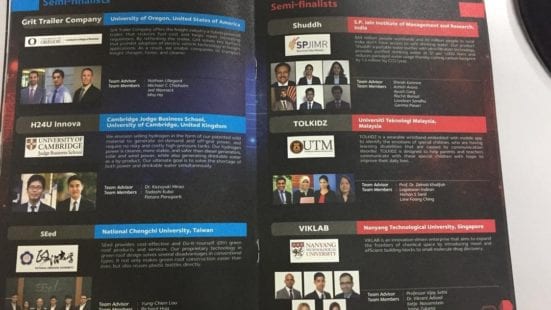 For 2018, the Bangkok Business Challenge has seen a historical number of applicants,112 postgraduate teams representing 52 institutions, from 16 countries across 4 continents.
The financial support from the Faculty of Management and flight sponsored from Air Asia to TOLKIDZ has greatly assisted the team to gain invaluable knowledge and experience during the competition.
The competition has taught the TOLKIDZ team that powerful planning processes provide the essential elements for business success through product value proposition, material management, lean operations, waste reduction and working capital optimization.
Besides, it is a highly competitive and consolidated competition, and provide a real-time network insight. Sasin BBC 2018 is an experience with extravagant hospitality and an eye opener in business plan management.