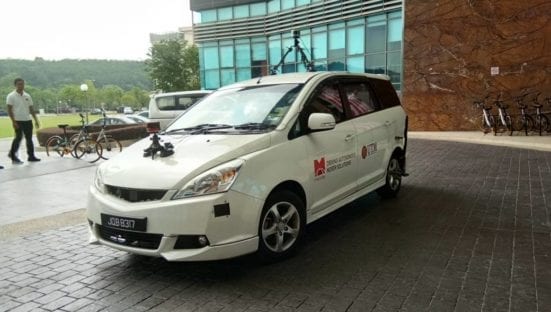 In conjunction with the Ministry of Higher Education's motto "Soaring Upwards", Universiti Teknologi Malaysia (UTM), being one of the main research universities in the country, has always envisioned to produce research outputs which can benefit the country and society, thus facilitating Malaysia's dream to be a developed nation. Fourth Industrial Revolution (4IR) is one of the main areas which is heavily discussed around the world. It is an umbrella term which foresees the birth of emerging technologies with ​disruptive effects, which in return will lead to the development of a smart city.
One of the pillars of innovation of 4IR is the autonomous vehicle (AV). The automated driving feature of the AV enables the host vehicle to navigate independently without any intervention of human driver. In Malaysia, the pioneering research group in the field of driverless vehicle is the Intelligent Drive team of the Vehicle System Engineering Research Group (VSE) from Malaysia-Japan International Institute of Technology (MJIIT), UTM, Kuala Lumpur.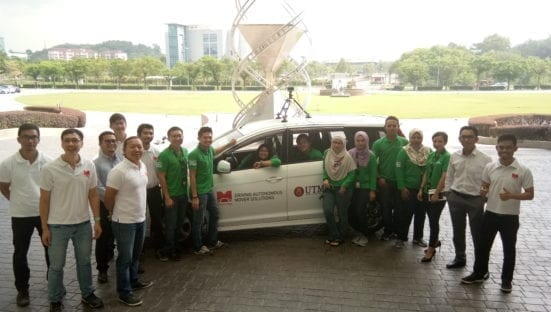 The team, led by Associate Professor Dr. Hairi Zamzuri with the support of Dr Mohd Azizi Abdul Rahman and Dr Mohd Hatta Mohd Arif, has initiated the in-house work in the said field since 2012. However, as AV is a very competitive and challenging area, the first phase of research in 2012-2016 focused on the Advanced Driver Assistance System (ADAS) and Vehicle Active Safety work, which are the main components ​of AV.
Since 2017, the team has quietly worked on a fully-automated vehicle development. An AV prototype was developed through the collaboration between UTM and Moovita Pte Ltd . The protoptype is based on a 7-seater vehicle and encompasses several aspects and combining different modules (i.e. perception, localization and mapping, as well as guidance, navigation, and control). Just six months of extensive development and testing with two days setup demo, beginning Friday, 19 January 2018, the vehicle made its debut to the public. The team has successfully showcased the driverless vehicle prototype at the Malaysian Global Innovation & Creativity Centre (MaGIC, Cyberjaya). The significance of this demo is it exhibited the first driverless vehicle in Malaysia with full Level 5 automation. It is with much pride to mention that the showcased prototype was developed mostly by Malaysian talents.
Surely, this is only a step forward to a long and arduous journey ahead which will pose challenges and demands for further improvements. However, this achievement should be remembered and is hoped to expedite and catalysed the AV development in Malaysia. In addition, to enable the vehicle to be fully utilized on Malaysian roads, research in the area of AV development, covering other aspects such as user acceptance, policymaking as well as improvement on the prototype, should be continuously carried out.
UTM, soaring upwards!