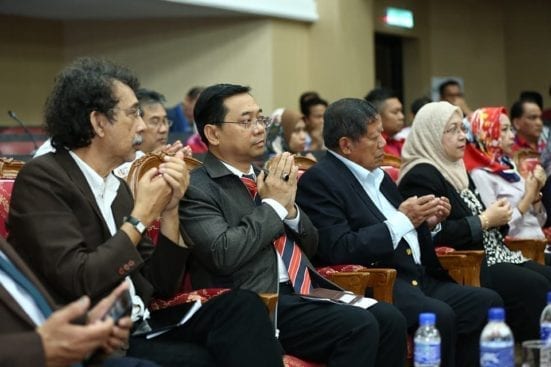 JOHOR BAHRU, 16 December 2017 – Six Merdeka Award recipients shared their views on the state of science education in Malaysia, and their experiences and reflections over their work together with over 80 young scientists, academic staff, and postgraduate students in the inaugural 2017 Merdeka Award meeting jointly organised by the Academy of Sciences Malaysia (ASM), the Merdeka Award secretariat, and Universiti Teknologi Malaysia (UTM) at UTM Johor Bahru, today.
The six recipients were Academician Tan Sri Dr Salleh Mohd Nor FASc, Professor Dato' Dr Ahmad Fauzi Ismail FASc, Professor Datuk Dr Halimaton Hamdan FASc, Professor Datin Paduka Dr Khatijah Mohd Yusoff FASc, Distinguished Professor Datuk Dr Harith Ahmad FASc and Professor Dato' Ir Dr Wan Ramli Wan Daud FASc.
The recipients engaged with the participants through a Merdeka keynote address, a Merdeka lecture, a Merdeka roundtable session, networking lunch and Merdeka Masterclass during the one day event.
ASM President, Professor Datuk Dr Asma Ismail who officiated this event, explained that the 2017 Merdeka Meeting is a platform for participants to learn from distinguished experts, who are adept at optimising resources available within the country to advance knowledge in their respective fields. It also encourages participants to identify potential collaborations which enable them to work with one another in the future.
The format of the 2017 Merdeka Meeting mimics the annual Lindau Nobel Laureate meeting held in Germany, where Nobel Laureates and selected members of the global scientific community gather and network with each other in a series of events over the course of one week. Malaysia usually participates though a delegation of two to three representatives annually, through a stringent selection process done by the Lindau meeting committee.
The Merdeka Award recipients were unanimous in sharing their concerns over the worrying state of science education in Malaysia today. In his keynote address, Academician Tan Sri Dr Salleh Mohd Nor informed participants that there was an acute decline of students enrolling in the science stream.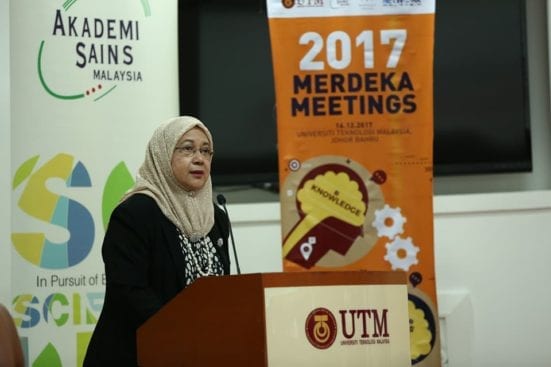 The workforce of the future, explained Professor Datuk Dr Halimaton Hamdan, is in urgent need of skills and competencies in science, technology, engineering and mathematics (STEM), which is a requisite in cultivating a society of innovative prosumers (producers and consumers).
The dwindling public interest in science, according to Distinguished Professor Datuk Dr Harith Ahmad, has serious ramifications for Malaysia's progress as a developed nation. He noted that the public must be able to see a future in science, and are given opportunities to work in areas related to the sciences.
Additionally, the industry should bring the scientific community on board in the country's development projects, working together in providing solutions to real-world problems.
Professor Datin Paduka Dr Khatijah Mohd Yusoff remarked that Malaysia is not short of policies in science, technology and innovation, and should have no problem in driving the science, technology and innovation (STI) agenda forward.
That said, current policies lack solid footing in implementation. The policies are also in favour of applied research, which will not help the country in developing the critical mass of fundamental research needed for Malaysia to bring the Nobel Laureate back to its shores.
Professor Dato' Ir Dr Wan Ramli Wan Daud advised participants to uncover new fields of research within their respective disciplines. They should also focus on research that has high growth value and high impact, particularly in energy, chemical engineering and medicine.
Commenting on the decreased public grants allocated for public universities, both Professor Dato' Dr Ahmad Fauzi Ismail and Distinguished Professor Datuk Dr Harith Ahmad encouraged the young scientists to look at the current situation as a golden opportunity to soar higher.
The lack of resources should not be an excuse to be complacent. Rather, they should reach out to more stakeholders, and innovate within existing resources and networks. For Muslim scholars, their work in science cannot be separated from their religious beliefs, since the pursuit of knowledge is an obligation for every individual.
They can find inspiration and conviction for their work through the Quran. Religious organisations should also consider supporting the scientific community in their scholarly pursuits, through research grants and endowments.
Maria Zainal, the Secretariat for Merdeka Award and joint organiser for the event, hoped that the inaugural 2017 Merdeka Meeting, and the subsequent meeting editions in the future, will enable the Merdeka Award to continue its legacy of excellence and service to the nation within the scientific community, passing the torch of success from one generation to the next.