JOHOR BAHRU, 31 December 2017 – Faculty of Civil Engineering(FKA), Universiti Teknologi Malaysia (UTM) has organised the UTM Sustainable Construction 2017 ( SUSTAC17) from November 27 to 29, 2017 at the Dewan Sultan Iskandar(DSI), UTM Skudai.
The successful organization of SUSTAC17  has required talents, dedication and time of the conference committees, Dean of FKA, many volunteers from FKA student and strong support from sponsors. "UTM Sustainable Construction Week" is a scientific week where UTM is organizing and accompanied by external organizations such as MAMPAN, CIDB, MBJB, developers, Public University and Private University where in this week students will be exposed on sustainable construction through activities such as seminars , competitions, "hand-on activites" and friendly sessions with representatives from outside organizations.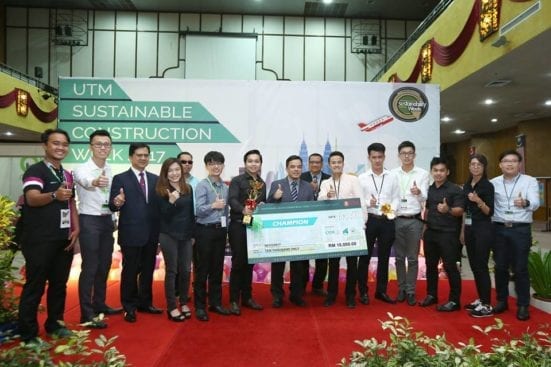 The main goal and objective of this program is to nurture students on sustainable construction ideas while maintaining a sustainable elemental balance that is also one of the initiatives, "Construction Industry Transformation Plan (CITP)" by the Public Works Department.
This programme is held in conjunction with National Eco Construction 2017 (NECO17) competiton. The competition was participate by 20 finalists from UTM and outsiders. All participants had to construct the designed of a house that meets the criteria needed.
All the teams were given RM 1000 as project fund to design and construct their product as well as commercialise it.
The students from UTM won the first place in this competition worth RM 10,000. The winning team named, 'ECOHOME' won the judges over with their house that meets all the criteria especially in order to maintain the sustainable of the nature. Students from Universiti Tunku Abul Rahman won the second place worth RM 7,000 while the third place won by the students from Universiti Malaya, worth RM 5,000.
All in all, the hard work, design innovation and good teamwork contributed to the performance and success in this NECO competition.
Again, congratulation to all the winning team.