JOHOR BAHRU, 28 october 2017 – The UTM Night Run For Hope 2017 organized by the Bioprocess Student Society (BIOSS) has managed to obtain sponsorship of around RM100,000 including prizes for the winners.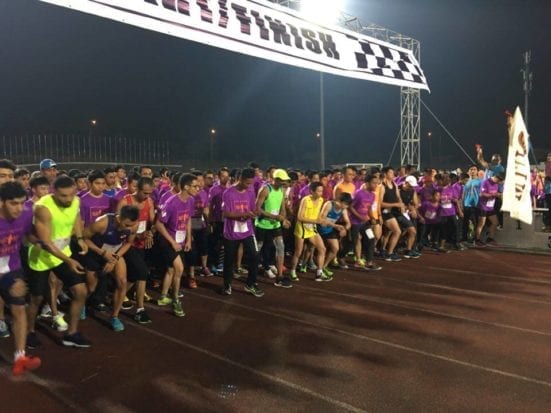 Its president, Muhammad Andika Mohd Yunus said, the 10 kilometer run held on 21st October managed to gather nearly 2,000 participants from all over Malaysia, and was held at Stadium Azman Hashim, UTM.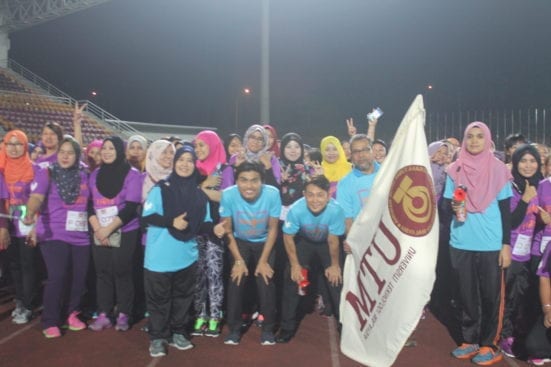 "The companies that sponsored the event were Beyond Ultron Sdn Bhd, Belinked Enterprise, Eleven Sport Malaysia, Printcious Gifts (M) Sdn Bhd, IM4U, Southern Rubber Works Sdn Bhd(Jazz Star), Salient Information Sdn Bhd (MYC), Shoon fatt Biscuit & Confectioney Factory Sdn Bhd, Allexcel Trading Sdn.Bhd (Warrior Energy Drink), Dato' Khoo Soo Seang (Johor Chung Ling Alumni Association) and and students.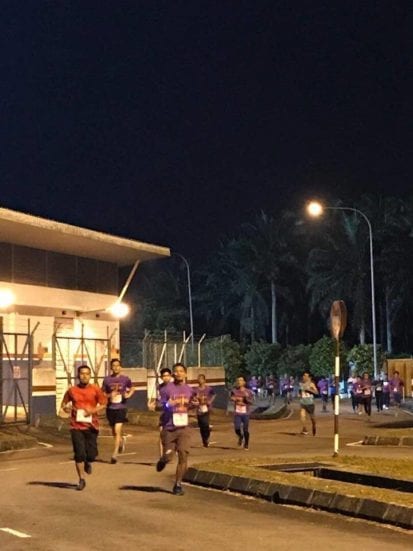 "Some of the donations were in terms of facilities essentials to give support to cancer survivors, in which RM 3,000 will be given to the Children's Home of HOPE," he said.
Muhammad Andika said, the main objective of the event was to enhance and promote a healthy lifestyle while showing support for children who had cancer as well as survivors under the Children's Home of HOPE and to raise awareness on children's cancer among the communities in Malaysia.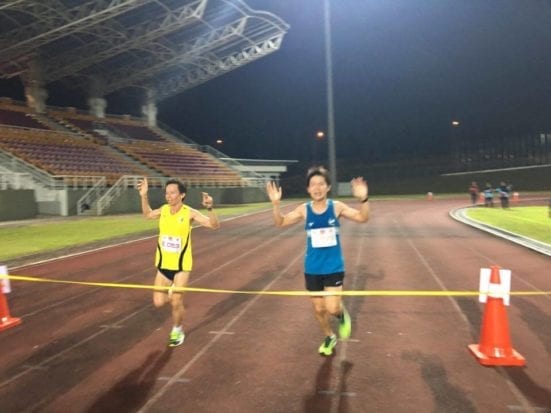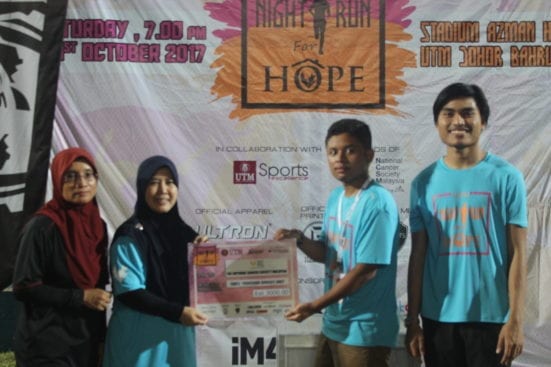 "The collection of the UTM Night Run for Hope fund will be donated to the Home of HOPE, which is located near Hospital Kuala Lumpur (HKL).
"We really hope that the donation can be helpful for them in terms of financial support and also facilities in the home," he said.
The UTM Night Run For Hope 2017 was the third charity run program organized by BIOSS after UTM Run with Pride 2016 and UTM Night Run for Makna 2015.
The UTM Night Run For Hope 2017 was a collaboration between BIOSS and UTM Sport Excellence in order to raise funds for the Children's Home of HOPE which is one of the charities associated with the National Cancer Society Malaysia (NCSM).
Home of HOPE is a non-government charity body that aims to help children from poor families by providing temporary shelter while receiving cancer treatment at Hospital Kuala Lumpur.
The charity run was officiated by the Chairman of MCA Gelang Patah, Dato' Jason Teoh Sew Hock.
He was very proud of the achievement of the organizers of the UTM Night Run for Hope 2017 because this program was fully organized by the students themselves.
"This UTM night run is meaningful as it not only carrying the mission in raising awareness about the National Cancer Society, but also channels its fund to the Children's Home of HOPE under the National Cancer Society Malaysia, helping them to achieve a better and brighter future, nurturing these seeds of hopes to shine in their future days," he said.
The officiating programme were attended by the Head of Department of Bioprocess and Polymer Engineering, Associate Professor Dr. Roshanida A. Rahman and advisors of BIOSS Professor Ida Idayu Muhamad and Dr Liza Md Salleh,
Meanwhile, Dr Liza expressed her gratitude to the whole organizing committee for  Ewing involved and making the program a success.
She said, the program achieved the target of having more than 1,800 participants and she also expressed her gratitude to UTM Sports Excellence for providing a platform to organize the event.