There are probably a lot of things in life that you will remember forever: the first time you had your wisdom tooth removed, your first love, or even that memorable trip overseas.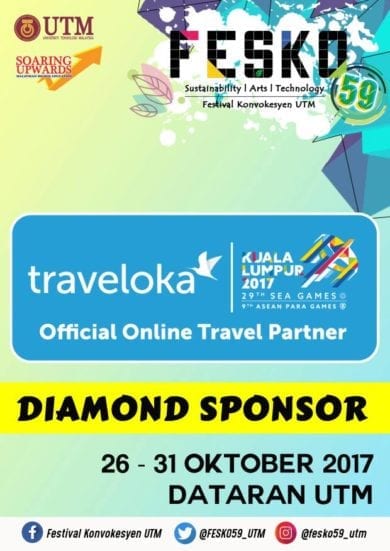 For most students in Universiti Teknologi Malaysia (UTM), one such event would be the Convocation Festival. The UTM Convocation Festival (FESKO) is a bi-annual event, which is celebrated in conjunction with the UTM Convocation, spanning up to a week.
UTM is hosting its 59th Convocation Festival (FESKO59) on the 26th-31st October, at the Dataran UTM. At an estimated visitor count of 60,000, it is one of the largest carnivals not just in Johor but also in Southern Malaysia.
FESKO59 caters to a wide audience, offering a variety of activities over five days. If you are interested in running for a cause, the Midori Run is the perfect event for you.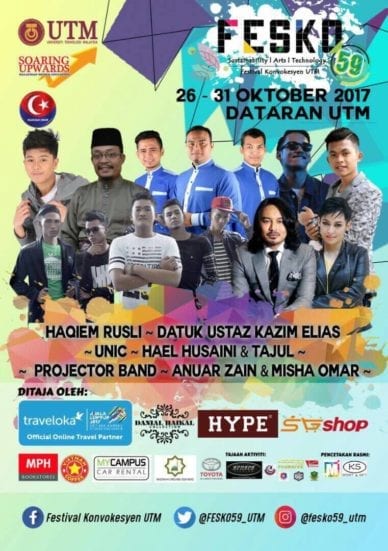 "Midori" here is the Japanese word for green, which is the concept of sustainability and going green, synonymous with UTM's aim to create an eco-friendly campus.
FESKO59 will also pit gamers against each other in tournaments for two of the most celebrated games worldwide, FIFA and DOTA 2! On top of that, there will be many more activities, including Seni Khat Workshop UTM, Makeup Tutorial, Joran Warrior and International Day.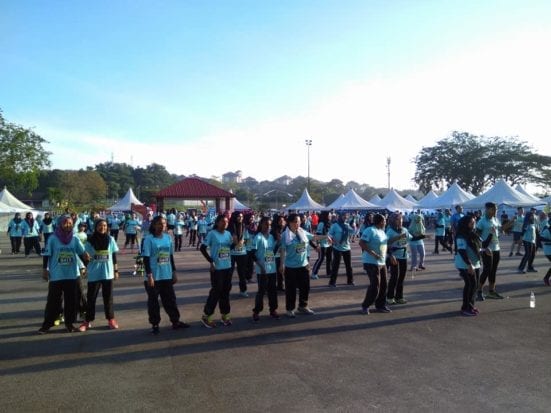 Moreover, the festival also showcases up to 150 stalls, selling food, clothing, home appliances, games, services and many more, attracting aspiring entrepreneurs not just from companies and the public, but also among UTM students.
To know more about FESKO59 and what we are going to do this October, remember to check out our Facebook page and follow us on Instagram and Twitter as we bring you the latest highlights of FESKO59!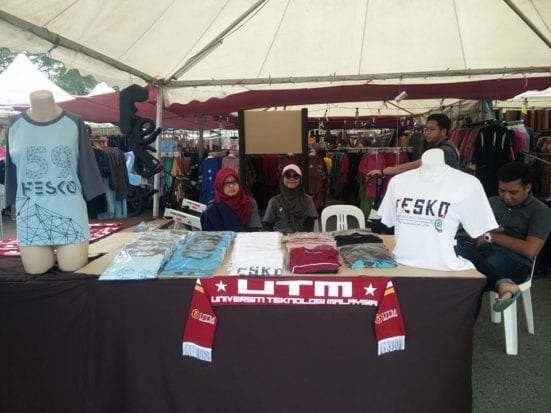 For this year's 59th Convocation Festival, we are proud to present Traveloka as our main sponsor. Traveloka is a leading Southeast Asian online travel company that provides a wide range of travel needs in one platform. From hotel booking to flight booking online, Traveloka does it all!
The company has established partnerships with more than 100 domestic and international airlines, serving more than 200,000 routes worldwide. It also has the largest direct accommodation inventory, varying from hotels, apartments, guest houses, homestays, to villas and resorts.
Traveloka provides more than 40 payment options for consumers in Indonesia, Thailand, Vietnam, Malaysia, Singapore and the Philippines, with 24/7 assistance from local customer service representatives in their native languages.
Additionally, its mobile application has been downloaded more than 20 million times, making it the most popular travel booking app in the region. If you are a travel enthusiast looking for great deals and promotions for your next trip, or just longing for a pleasant travel experience, then visit Traveloka at https://www.traveloka.com/en-my/ or download the Traveloka App on Google Play Store or the iTunes App Store now.
Traveloka is the main sponsor for our FESKO59 Sports Festival, featuring 2 main events: the 3-on-3 basketball and futsal competitions. Open to all UTM students, participants may stand a chance to win up to RM 500 worth of Traveloka vouchers in the 3-on-3 basketball competition, for a small fee of only RM 40 per team.
For the futsal competition, the grand prize winning team will bring back a total of RM 1,000, while the 1st runner up and the 2nd runner up teams will go home with RM 500 and RM 300 respectively.
Registration for the futsal competition is open to the public, and fees are only RM 100 per team. Why wait? Assemble your team and join us on 28th October! Feel free to contact Mohd Fazle (011-3148 2474) or Ain (019-401 7640) should you have any enquiries on the event.