KUALA LUMPUR, 16 October 2017 – The Soft Trust for IOT Enviroment team of Advanced Informatic School, Universiti Teknologi Malaysia (UTM) has received a recognition letter of completion from Ministry of Science, Technology and Innovation (MOSTI), today.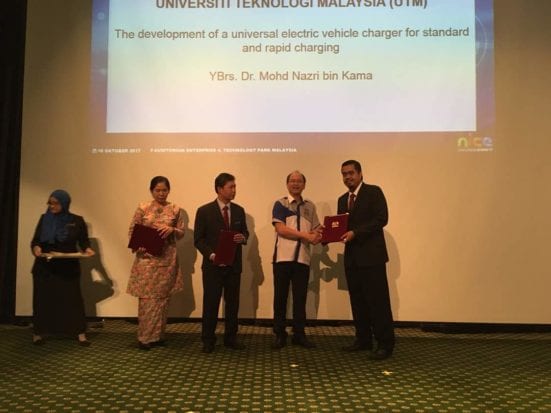 The certificate was handing over by its minister Datuk Panglima Wilfred Madius Tangau at MOSTI Innovation Dialog '17, near here today.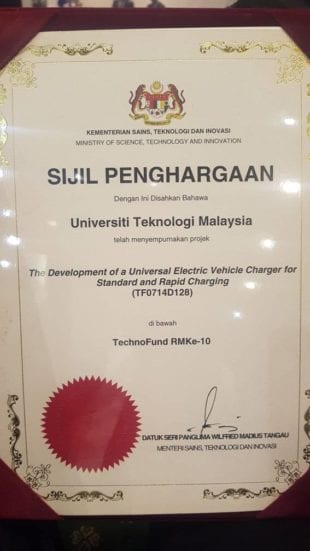 Project leader, Associate Professor Dr Nazri Kama said, the team has succesfully completed a project named The Development of A Universal Electric Vehicle Charger for Standard and Rapid Charging.
The project worth RM1.9 million was funded by MOSTI and kicked start on June 2015 and completed on May 2017.
"The project was initiated to support the Electric Vehicle (EV) business ecosystem readiness for Malaysia environment.
"One of the main challenge in implementing the EV business is the power electricity rating differs in regards to different EC car power rating requirements," he said.
Associate Professor Nazri said, currently, an electric vehicle charger would normally be present to charge a selected vehicle type.
He said, a Japanese manufactured charger would be specialised for Japanese EVs while an American charger for American EVs and European chargers for European manufactures EVs.
"Thus, this project is to overcome the above said challenge by proposing a universal EV charger that is able to support different power rating requirements.
"The novelty of the project is the "universality" of the developed charger which refer to the capability to charge any EV car from different EV car manufacturers," said.
He cited, the main collaborators for the project were Panasonic System Engineering (M) Sdn Bhd, Nichicon (M) Sdn Bhd, Scan Consulting Services Sdn Bhd and Entrust Consultancy.