KUALA LUMPUR, 20 October 2017 – Senior Lecturer from Malaysia-Japan International Institute of Technology (MJIIT), Dr Liew Peng Yen received Highly Commended for Young Researcher Award in the Institution of Chemical Engineering (IChemE) Malaysia Awards 2017, sponsored by Dato' Muhtar Hashim.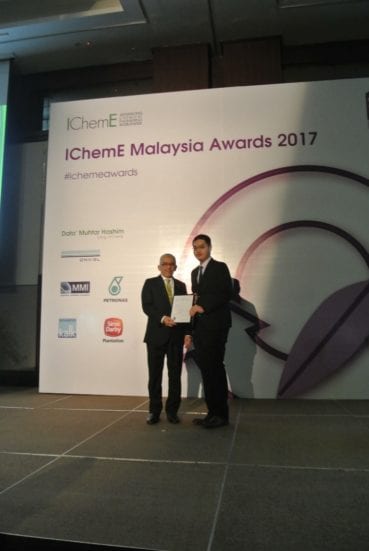 He is an alumni and currently associate member of Process Systems Engineering Centre (PROSPECT).
Dr. Liew received his Ph.D. in Chemical Engineering from UTM at the age of 25.
He specialises in Process Systems Engineering with emphasis on industrial energy conservation using systematic process integration techniques.
His research focuses on Total Site Heat Integration, which involves multiple-process heat recovery, process utility systems, steam systems, heating and cooling systems and low grade heat recovery.
His PhD thesis was selected as Top 3 Finalist for the European Federation of Chemical Engineer (EFCE) Excellence Award in Recognition of an Outstanding PhD Thesis on Computer Aided Process Engineering (CAPE) 2016.
He is awarded as the UTM's Best Postgraduate Student 2015 and Chancellor's Award upon his PhD graduation.
As an early stage researcher, he authored 24 indexed articles in international peer-review journals (9) and Scopus-cited conference proceedings (15). To date, he has accumulated about 225 citations and h-index of 8.
Apart from doing research, he served as a reviewer for several international refereed journals and international conferences.
He was the Scientific Secretary for three major process engineering-based conferences in Europe and Asia. He has edited 4 conference proceedings, which are published under Chemical Engineering Transactions and Computer Aided Chemical Engineering.
He has also been invited as guest editor for Computers and Chemical Engineering Journal (Elsevier). Besides that, he involved in providing professional consultancy services to multinational companies.
He is also one of the main contributors for the development of the Optimal Site© software, which won Gold Award and Jury Award in INATEX 2014 exhibition and Silver Medal in PECIPTA 2015 exhibition.
He is selected as one of the five national young scientist ambassadors in the 65th Lindau Nobel Laureate Meeting 2015 in Germany.
Dr Wong Syie Luing, UTM postdoctoral researcher in Centre of Hydrogen Energy, has also been selected as one of the finalists in the Young Researcher Award category.
The "I-SUSTAIN" project, led by Associate Professor Ir. Dr. Haslenda Hashim, is also nominated as the finalist for the Palm Oil Award 2017 category.
In the category of Training and Development Award 2017, UTM has been shortlisted with a project entitled, "Student Centered Learning Pedagogical Training", which is a joint submission with Universiti Teknologi PETRONAS.