Heartiest Congratulations to Ir. Dr. Tan Yean Chin, President of the Institution of Engineers Malaysia (IEM) on being conferred the Best Student Award for Engineering Doctorate (Technology and Construction Management) at the UTM 59th Convocation Ceremony.  He has completed his thesis entitled  Performance of Floating Piled Raft with Varying Lengths in Solving Compressible Subsoil  under the supervision of Professor Ir. Dr. Ramli bin Nazir from Faculty of Civil Engineering.
Ir. Dr Tan Yean Chin is the President of The Institution of Engineers, Malaysia (IEM) and Board member of the Board of Engineers, Malaysia (BEM). Ir. Dr Tan also holds the position of Secretary General of the Federation of Engineering Institutions of Asia and the Pacific (FEIAP), an independent umbrella organisation for the engineering institutions in the Asia and the Pacific region.
Ir. Dr. Tan obtained his B.Eng. (Civil) degree with First Class Honours from  Universiti  Teknologi  Malaysia  (UTM)  in  1992. In 1994, he was awarded the Chin Fung Kee prize and M.Eng. (Geotechnical Engineering) from the Asian Institute of Technology (AIT), Bangkok. He later obtained his Engineering Doctorate from UTM in 2017.
Ir. Dr. Tan is a Professional Engineer and an Accredited Checker (Geotechnical) registered with the BEM. A registered ASEAN Chartered Professional Engineer (ACPE) as well as in the APEC  and International Professional Engineers registers. Ir. Dr. Tan is also an Honorary Fellow of the ASEAN Federation of Engineering Organisations (AFEO), Fellow of IEM, Institution of Civil Engineers (ICE, UK), ASEAN Academy of Engineering & Technology (AAET) and Academy of Engineering and Technology of the Developing World (AETDEW).
He is one of the Founder and Senior Director of G&P Professionals group of multi disciplines engineering consulting firms with staff strength of more than 300. He has lead his team in geotechnical design of mega projects such as Electrified Double Track Railway project (200km) from around Taiping to Alor Setar, Klang Valley MRT Line 1(SBK Line) and Klang Valley MRT Line 2 (SSP Line). Ir. Dr Tan has published more than 70 technical papers on geotechnical engineering in local and overseas conferences and seminars.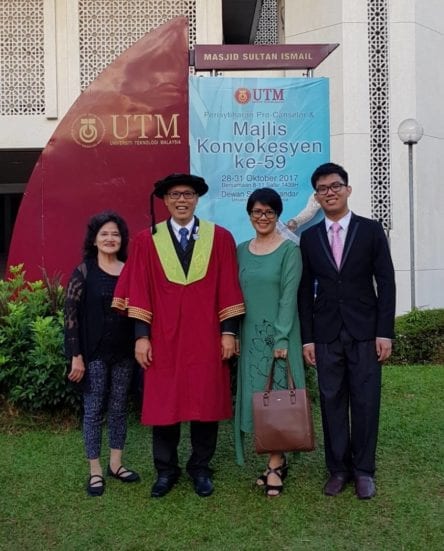 Ir. Tan with his wife, Mdm Lian Poh Hoon, mother Mdm Ch'ng Phaik Heoh and one of his son during the convocation day.