JOHOR BAHRU, 20 July 2017 – With strong support from UTM MyLinE Task Force, Language Academy, and UTM International Office, UTM Toastmasters Club has organised a special social gathering for a group of Summer School participants from University of Electronics, Science and Technology, China (UESTC) hosted by Language Academy from 16 – 26 July 2017.
This programme catered for thirty-two UESTC students paired with UTM students as 'buddies' and accompanied by two UESTC English language teachers.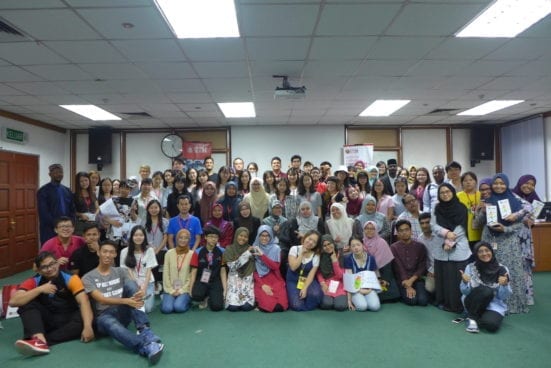 Themed 'Guts and Gusto', the programme aimed to develop confidence in speaking in English. Tongue twisters were used to break the ice, and three prepared speeches were delivered followed by a feedback session before the students' turn to take over the floor.
​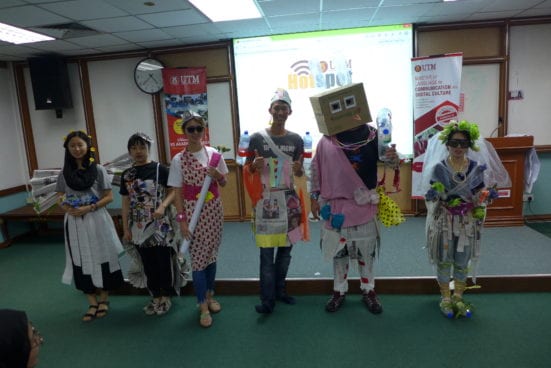 In line with the theme, Dr Farhana Diana Deris (Senior Lecturer, Language Academy & Head of Microsite Development, UTM MyLinE Task Force) gave a rousing speech on the 'Courage of a Child', Aliyu Isah-Chikaji (PhD Candidate, Faculty of Management) on seizing the moment with his speech entitled 'Misperceived Bourgeoisie', and Fasihah Mohd Jaslan (Assistant Registrar, Global Education & Student Experience, UTM International) with her debut speech as a Toastmaster entitled 'The Town Girl'.
​As per the tradition of Toastmasters Club, speeches were evaluated and shared by Prof Dr Nor Haniza Sarmin (Director, Global Education & Student Experience, UTM International), Siti Norziahidayu Amzee Zamri (PhD Candidate, Faculty of Science), and Ayu Azrin Abdul Aziz (Executive Officer, International Scholar & Student Services, UTM International).
In the activity that followed, Two to Tango, the students crafted and presented their speech, and benefited from peer feedback session.
A short break was given after the speech sessions and the break was filled with online activities hosted by the UTM MyLinE Task Force. Working with their UTM buddies, the UESTC students attempted quizzes on MyLinE and three winners were selected based on their scores.
Sisi LI, Jueyan WU and Xia CHEN from UESTC won complimentary subscription to MyLinE (national online resources for learning in English) sponsored by UTM MyLinE.
The programme culminated in a group activity where the students used recyclable materials to design and model themed costumes. Based on the materials used and presentation skills, three models were crowned as The Sassiest, The Most Phenomenal, and The Most Outstanding, respectively.
It was a programme full of guts and gusto indeed, and with thirteen UTM Toastmasters and four UTM MyLinE Task Force joining forces, the programme has showcased not only the collaborative English language support programmes at UTM but also the spirit, the very culture and flavour of UTM, of being of service to mankind and of giving back to society.
For more information about UTM Toastmasters Club and activities, visit https://www.facebook.com/groups/utmtmc or contact Dr Farhana Diana Deris (Vice President – Public Relations) at 018 2087678/ diana@utm.my. MyLinE can be reached at http://myline.utm.my or myline@utm.my. For more info on summer school, please visit  http://www.utm.my/mytree/ss02/