Kuala Lumpur, 17 May 2017 : A memorandum of agreement was today signed for collaborative research and partnership between Malaysia-Japan International Institute of Technology (MJIIT) through the Disaster Preparedness and Prevention Center (DPPC) with Disaster Prevention Education Center (DPEC), National Cheng Kung University Taiwan (NCKU). According to Professor Datin Dr Rubiyah Yusof, Dean of MJIIT, the MoA should enrich the academic and research expertise in various disaster-related studies leveraging on its disaster risk management framework and collegial partnership among national and international collaborators. In the signing, NCKU was represented by Professor Dr Chjeng-Lun Shieh, Director of DPEC.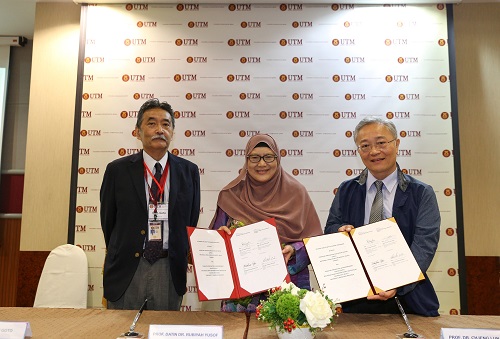 The MoA was signed during the International Symposium on Disaster Risk Management 2017 which was attended by representatives from University of Tsukuba, Japan; National Cheng Kung University, Taiwan; University of Yamaguchi, Japan and University Gadjah Mada, Indonesia at Dewan Seminar, Menara Razak UTM Kuala Lumpur.
About 100 participants representing various government sectors including MJIIT's local stakeholders attended the symposium, which focuses on Capacity Building in Disaster Risk Management through Training, Research and Field Practices. The local presence comprises of representatives from National Disaster Management Agency (NaDMA), Civil Defense Force (APM), Ministry of Education, Public Work Department (JKR), Malaysia Meteorological Department, Minerals and Geoscience Department (JMG), Fire and Rescue Department, NAHRIM, other Federal- and State government agencies related to disaster management, local government agencies, non-governmental organizations and funding agencies including JICA.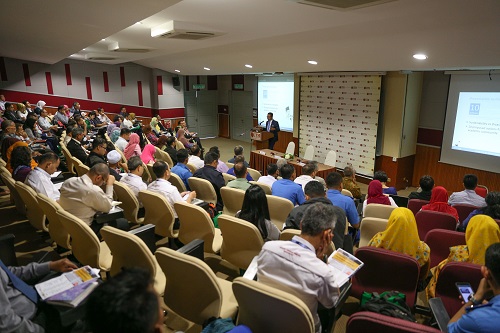 YBhg Datuk Seri Ir Dr Zaini Ujang, Secretary General, Ministry of Energy, Green Technology and Water (KeTTHA) in his keynote address encouraged all participants to actively participate in public engagement initiatives to protect the environment particularly the rivers that are highly subjected to natural disaster such as monsoonal flood, as part and parcel to environmental sustainability solutions. In addition, Tuan Haji Norhafifi Haji Ismail, Director of Policy Planning and Coordination, Malaysian Civil Defence Force (APM) in his keynote speech addressed the importance of capacity development in Disaster Risk Management for Building Disaster Resilience based on several case studies in Malaysia and the ASEAN countries.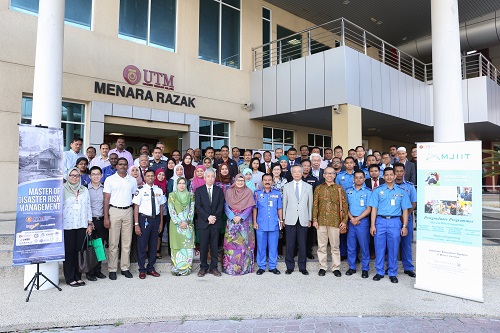 The symposium featured two specialized sessions namely the Role of Science and Technology for Strengthening Disaster Risk Management and a Focus-Group Session on Identifying Regional Capacity Building Needs in Disaster Risk Management.