KUALA LUMPUR, 20th May 2017 – Chief Executive Officer (CEO) of Nadicorp Holdings Sdn. Bhd. Tan Sri Dr Mohd Nadzmi Mohd Salleh was invited to share his experience in a workshop entitled Building An Excellent Organization with Universiti Teknologi Malaysia (UTM) business entity representatives.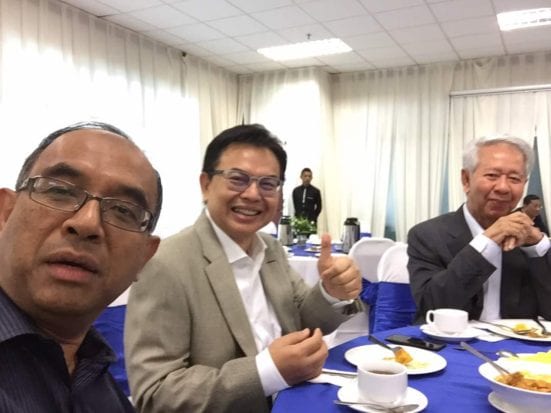 The program attended by members of the UTM business arms, such as UTM Space, Unitechnology Sdn Bhd and UTM Holdings was to promote effective entrepreneurial and innovative mindsets and culture through effective communication between entities.
Chairman of the UTM Board of Directors, Tan Sri Halim Ali in his welcoming remarks said, the presence Tan Sri Dr Mohd Nadzmi marks the significant role that corporate representatives can play in creating the right synergy and engagement with academic institutions such as UTM.
"UTM always values the insights and experiences shared by corporate partners on pertinent issues in the implementation, running and managing of business enterprises, especially in the current economic scenario.
"In an increasingly competitive environment, it is essential for us to keep abreast of current corporate practices that are effective and impactful to bring about positive outcomes," he said.
Vice Chancellor Professor Datuk Ir Dr Wahid Omar and Deputy Vice Chancellor (Development) Professor Dr Azlan Abdul Rahman were present at the event which took placed at Menara Razak, UTM Kuala Lumpur campus, today.
Tan Sri Halim said, universities around the world and also in Malaysia are now emphasizing the importance of being financially sustainable even in a public-run entity such as UTM.
"With the wealth of scholarly outputs, assets and services rendered within a university ecosystem, we need to ensure that all these can be monetized to bring sufficient returns for us to operate in a more strategic and sustainable manner.
"I strongly believe that UTM has the right ecosystem, resources and capacity to enhance its business entities to thrive and become more vibrant to reach greater heights," he said.