JOHOR BAHRU, 18 April 2017 – The Three Minute Thesis Competition (3MT) 2017 was successfully organized by Sekolah Pengajian Siswzah on the 10th April at Dewan Senat, Bangunan Canseleri Sultan Ibrahim, UTM Johor Bahru.
Under the branding of the University of Queensland's 3MT, thirty-four PhD students from 17 faculties participated in the competition. All participants had to have completed and passed their proposal defence to be eligible to compete. In the competition, the contestants are allowed one static slide to complement their presentation, and are evaluated on how well they explain their doctoral studies to non-expert audiences in three minutes.
The panel of jury consisted of the Head of Department, Language Academy UTM, Associate Prof Dr Abidah Mohd Omar, 3MT 2015's winner, Dr Jaysuman b Pusppanathan, a Past President of the UTM Toastmasters Club Mr Bachan Singh and Ms Maizura Mohamed Saat from the Temenggong Ibrahim Institute of Teacher Education.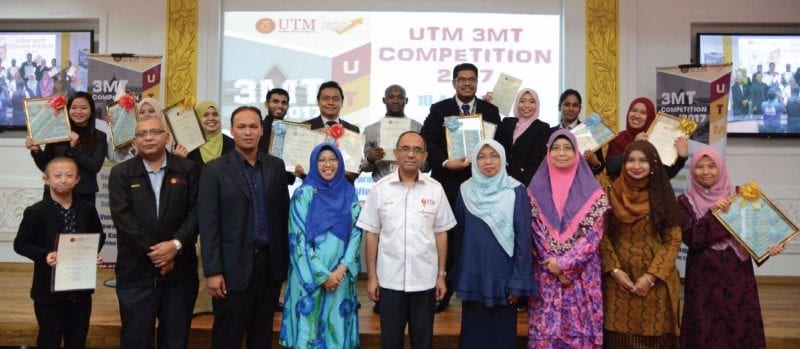 The competition is divided into three categories; Engineering, Science and Technology, and Social Science. The winners for each category received RM1500, RM1000 and RM750 accordingly.
The first prize winner for Engineering was Miss Natalie Vanessa Boyou, and second was Miss Noresah Said, both from the Faculty of Energy Engineering. The third place went to Mr Muhammad A'mullah bin Abdullah from the Faculty of Mechanical Engineering.
The Faculty of Biomedicine and Bioengineering emerged as true champions as the contestants from the faculty grabbed all prizes in the Science and Technology category. First prize went to Wan Fatin Amira Wan Mohd Zawawi, second Nor Suriani Sani, and third place went to Abdul Hadi Abdul Wahab.
Mohd Syazwan Ab Talib from the Faculty of Management was announced as the winner for the Social Science category, followed by Anis Diyana Halim. Third place went to Jacintha Johnny. Anis and Jacintha are from the Faculty of Education. For the first time in Universiti Teknologi Malaysia's 3MT history, Mohd Syazwan was announced as 'Best of the Best' presenter. Congratulation to the winners!
The first prize winner will undergo intensive training before flying to Universiti Sains Malaysia to compete at the Malaysia 3MT 2017 on 18th May 2018. Good luck to the three UTM representatives!