JOHOR BAHRU, 18 April 2017 – Higher learning institutions that offer aeronautic courses should collaborate with aviation industry players to ensure the syllabus aligns with job requirements.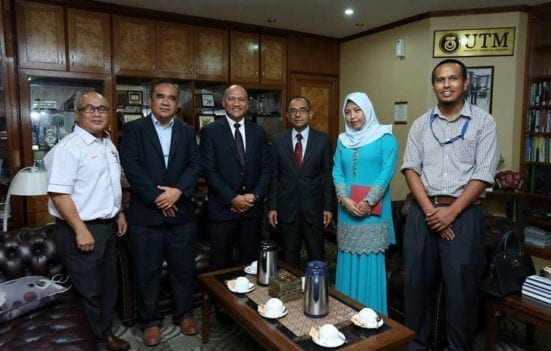 According to MASWings Chief Excutive Officer (CEO) Aminuddin Zakaria, the aviation industry in Malaysia needs more applied engineers for maintaining aircrafts rather than other fields.
He said, since the airline companies are buying new aircraft to fulfil the demand of carrying passengers they need more manpower to carry out maintenance.
"We do not have an anchor in the aviation industry such as Boeing to produce aircraft, therefore the workforce in aircraft design is limited.
"Universiti Teknologi Malaysia (UTM) aeronautical engineering graduates have the opportunities to work in other engineering fields because they hold a degree in aeronautic engineering which is a combination of aeronautics and engineering," he said when met after a sharing session with staff and students at the Senate Hall, Sultan Ibrahim Chancellery Building, today.
Aminuddin said that UTM's aeronautics course offered by the Faculty of Engineering trained students on aircraft design and engineering, enabling the graduates to be able to switch to the manufacturing field instead should they find the lack of job opportunity in the aircraft industry.
Further, he added that students should learn how to prepare themselves to enter the workforce where real world job skills are not being taught in the classroom, requiring them to prepare themselves on how to deal with pressure and unexpected problems that may arise.
Aminuddin who graduated from UTM with a Bachelor of  Engineering (Mechanical-Aeronautics) in 1989 was in UTM to deliver an Alumni Talk entitled "From University to Corporate World: Between Dreams and Reality".
The event was organized by the Faculty of Mechanical Engineering in collaboration with the UTM Alumni.
The UTM alumnus who has 27 years' aviation experience re-joined the MAS family in March 2012 as Senior Vice President, Airline Engineering Group after 14 years working with GE Aviation.
He also joined Malaysia Airports Berhad (MAB) and was responsible for safety operation and reliable aircraft with highest airline quality standard.
Aminuddin was acting CEO of MASWings from September to October 2016 and was confirmed in the CEO position in November 2016.