PETALING JAYA, 15 April 2017 – A graduate from the Faculty of Chemical and Energy Engineering (FCEE) of Universiti Teknologi Malaysia (UTM) has been selected to receive the the Institution of Engineers Malaysia (IEM) Gold Medal Award 2016.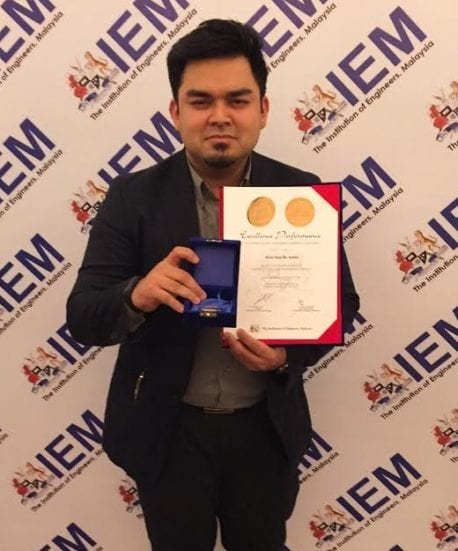 Mohd Anas Asalem received the medal at the IEM 58th Annual Dinner and Awards Night which held at the One World Hotel, First Avenue, Petaling Jaya. This award is given to the best final year engineering student selected from local institutions of higher learning.
Born in Teluk Intan, Perak, Mohd Anas graduated with a First Class Degree in Petroleum Engineering in 2016 and was also a recipient of the Royal Education Award at the UTM 57th Convocation ceremony.
Besides receiving the Royal Education Award, Mohd Anas was also awarded with several awards, namely the 2015 UTM Best Student Society Leader Award, 2015 Most Outstanding Student Chapter Award, Top 5 Paper Presentation Contest in Oil & Gas Intellectual Competition 2016 in Universitas Pembangunan Nasional (UPN), Yogyakarta, Indonesia and Top 5 Poster Presentation
Contest in Oil & Gas Festival 2015 at UTM Johor Bahru.
Mohd Anas was also awarded the Best Crew Award by the Vice Chancellor of UTM for contributions towards the UTM orientation Week in 2013. He was also the recipient of the Dean's List Award for seven semesters.
He currently serves as Growth and Partnership Specialist from June 2016 with NRG Edge, a motivational company based in Kuala Lumpur.