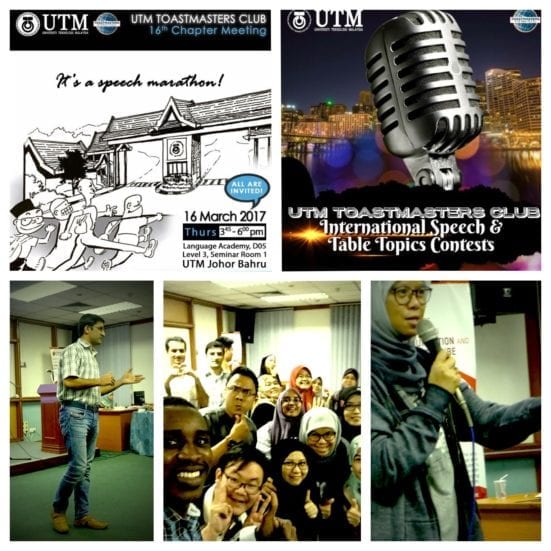 UTM Toastmasters Club (TMC), part of a global network under Toastmasters International, is collaborating with Language Academy in supporting the University's efforts and initiatives to empower UTM staff and PhD students to become more effective communicators and leaders. This collaboration includes UTM TMC being officially housed under the Academy. The blueprint of the club entails enhancing communication, public, and leadership skills of its members through practice and feedback, and mentor-mentee approach in a social environment. This includes club meetings, international contests and other support programmes for other Toastmasters clubs and other communities, both off- and on-campus. Club meetings run fortnightly (every first and third Thursday of the month) and for the term 2016/2017 16 chapter meetings have been successfully carried out. The club has been entrusted to organise the first Intensive English Programme (IntEnPro) at Language Academy and has been invited to run the second IntEnPro as well, as part of UTM's initiative for continuous development of staff.
Improve your English. Conquer your fear. Be the speaker and leader you were meant to be.
If you are a UTM staff or a PhD student, then this club is for you.
Drop by for a chat or come as a guest to one of the club's fortnightly gatherings at the Language Academy.
For more information, contact Dr Diana Deris at 018 2087678 or Prof Niza Sarmin at 0177557660.