JOHOR BAHRU, 8 February 2017 – Universiti Teknologi Malaysia (UTM) and Hurricane Geo Inspection Survey Sdn Bhd (HGIS) inked a deal to collaborate in the field of research with a major focus in the development of oil and gas exploration.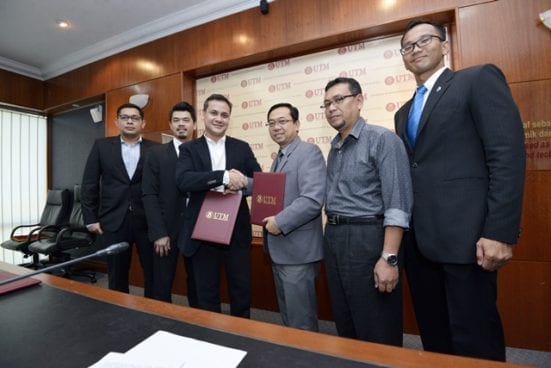 Deputy Vice Chancellor (Research and Innovation) Professor Dr Ahmad Fauzi Ismail said, UTM through UTM-MPRC Institute for Oil and Gas will collaborate in various field such as to develop software for preventive maintenance and product processes.
He said, the collaboration with HGIS had been very fruitful, as such UTM-MPRC had many researchers and experts in oil and gas area.
"Previously UTM-MPRC had successfully secured Malaysia-Thailand Joint Authority (MTJA) fund entitled 'Palm Oil Derivatives and Oleo-Chemical for Drillng Operation' awarded to UTM-MPRC from this initiative.
"I am confident that this joint venture also reflects the continuing involvement of industry in UTM and real-world problem solving and improvement of existing systems and it can make the research work carried out is to be proactive, creative and innovative," he said during the memorandum of understanding (MoU) signing ceremony at UTM, today.
Professor Dr Ahmad Fauzi was representing UTM meanwhile HGIS by its Executive Director Alexis Wan Ullok and witnessed by Director of UTM-MPRC Institute of Oil and Gas, Professor Dr Rahmat Mohsin and Chief Operating Officer of HGIS, Safrisia Drahman at Main Meeting Room, Sultan Ibrahim Chancellory Building.
Professor Dr Ahmad Fauzi said, UTM-MPRC Institute of Oil and Gas has been recognized by the Ministry of Education as Industrial Centre of Excellence (ICoE) under the jurisdiction of Resource Sustainability, UTM.
Meanwhile HGIS is specialized in Geophysical Survey Surveying, positioning and geotechnical engineering and has always been the forefront of research and development since 2008.
"The institute was officially established to promote technical services through the dissemination of knowledge and experience on the development of gas industry in Malaysia.
"As a center of excellence, it is the responsibility of Institute of Oil and Gas to gather experts from industry practitioners and staff of UTM in the oil and gas field related to understanding the knowledge and share experiences," he cited.