7 February 2017 – Two Malaysian speakers shared stories and experiences on hijabs, faith and identity at the recent Hijabi Monologues in Rackham Amphitheatre, University of Michigan, Ann Arbor, USA.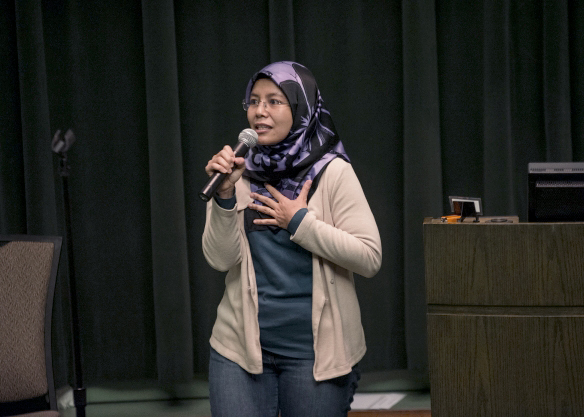 Dr Norhayati Abdullah, Senior Lecturer at the Malaysia-Japan International Institute of Technology (MJIIT) Universiti Teknologi Malaysia (UTM) Kuala Lumpur who is currently completing her 4-months Fulbright US-ASEAN research tenure in Environmental Engineering at the University of Michigan illuminated the audience with her familiar but foreign to others hijab stories at the event which was organised by College of Literature, Science, and the Arts (LSA) sophomores Fatima Haidar and Alyiah Al-Bonijin. Hijabi Monologues created an avenue for students and community members to express their stories, feelings and frustrations about what it means to be wearing hijabs in America. Speakers of a variety of backgrounds, nationalities and identities shared their personal relationship with the hijab. Norhayati's monologue centered around wearing hijab to reflect her identity as a Muslim woman whom, just like any other non-hijabi woman is a mother, an educator, a wife, a friend and a daughter. Her reflections encircled many challenges to develop a sustained career as a young professional at a global level. Grateful for having the understanding and supportive colleagues throughout her professional development but her scarves-wearing sometimes intrigued vexing questions alongside pure interest in her personal belief and principles.
Anati Alyaa Azhar, an LSA freshman in an engaging voice shared her courageous views on hijab-wearing as a student in Malaysia and America. She hails from Petaling Jaya and is majoring in cellular and molecular biology also at the University of Michigan. Anati is also a member of the Malaysian Students' Association (MiMSA) which governs the activities of Malaysian students in Ann Arbor.
The monologue was empowering and uplifting for everyone attended. Hijabi Monologues was held in commemoration of the World Hijab Day on February 1st.