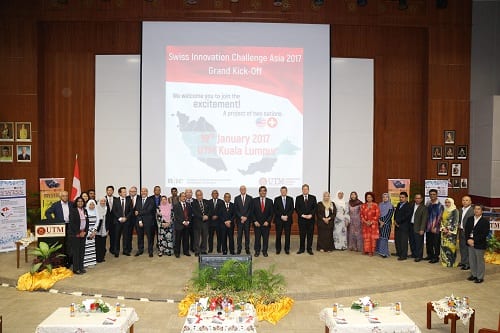 Kuala Lumpur, 19th January 2017 :- Malaysia and Switzerland are teaming up via an inaugural business innovation program catered to upgrade and boost innovation, commercialisation and internationalisation of Malaysian business ideas to greater heights.
The Swiss Innovation Challenge 2017, a prestigious collaboration between Universiti Teknologi Malaysia (UTM) International Business School and University of Applied Sciences and Arts Northwestern Switzerland (FHNW), and strongly supported by the Federal Commission of Technology and Innovation of the Switzerland government as well as the Ministry of Science, Technology and Innovation of Malaysia, is a project encompassing coaching and mentoring of 100 potential businesses aiming to go global with their business ideas and innovations.
An eight-month long stint, this project will work on the basis of comprehensive knowledge, innovation and experience transfer from Switzerland to Malaysia, involving multiple collaborations between various parties, particularly from the Swiss-Malaysian industries, mentoring by prominent business leaders, networking sessions with selected industries, engagement in business forums, as well as private, tailored coaching to participants.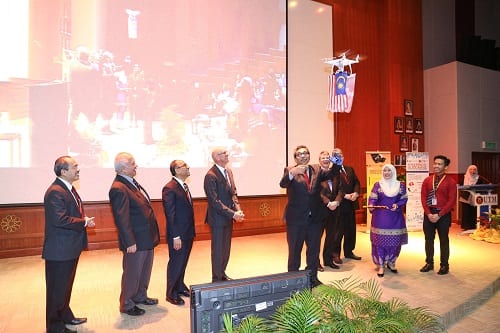 The MoA signing on this project witnessed the Switzerland Ambassador as well as the MOSTI Minister gracing the ceremony on the 1st November 2016.
The Grand Kick-Off, launching of the Challenge, which took place earlier today, in UTM Kuala Lumpur, where again, both the Minister and the Ambassador represented Malaysia and Switzerland. An overwhelming response was received for participations, from all over the country, as well as from other nations, and the 100 most innovative and potential business ideas were selected.
The Grand Kick-Off will witness participants from all over the nation, various parties from the Swiss Malaysian Business Association, and the industry, researchers and students, to gather in UTM Kuala Lumpur to join the Kick-Off.
For the next months that follow, the Challenge will monitor the performances of each business (team) and by end of July, 25 teams will be selected for the final business pitch and internationalisation of their projects.
A CSR project by both nations, the Challenge seeks to obtain financial and moral support from various organisations and industries throughout Malaysia.
The SIC Asia (Malaysia) Team plans to turn the Challenge into a 'reality show' in 2018, and is seeking for potential collaborators to make this happen.