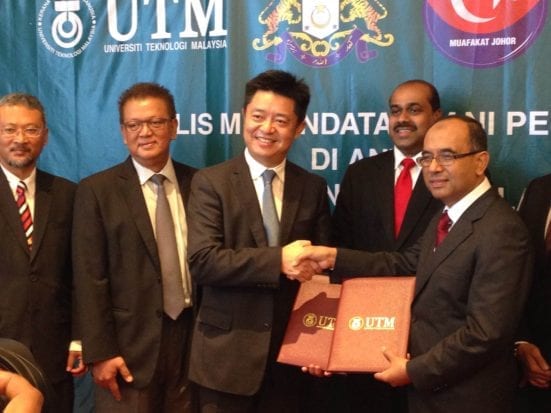 JOHOR BAHRU 8 November – Universiti Teknologi Malaysia (UTM) and developer of the mega project Forest City, Country Garden Pacificview Sdn Bhd (CGPV) today signed a Memorandum of Understanding (MoU) to enhance the employability of UTM graduates by providing career opportunities.
The signing ceremony which was held at the Conference Hall of Johor 3, Forest City, Gelang Patah today witnessed by the Chairman of the Committee for Unity and Human Resources of the State of Johor, Encik Vidyananthan A / L Ramanadhan.
UTM was represented by the Vice-Chancellor, Prof. Datuk Ir. Dr. Wahid Omar and Director of Career Center Assoc. Prof. Dr Othman Ibrahim; meanwhile CGPV represented by its Regional President (Malaysia) Country Garden Holdings and Chief CGPV Development, Mr Jason Fu and Executive Director, Datuk Md Othman Yusof.
Professor Wahid said, through the collaboration, UTM will provide the human talent, the students, to meet the CGPV demands in various programmes and also will ensure they grab the opportunities provided by the company.
"The cooperation is seen as the exchange of best practices of knowledge and experience between the two sides to meet the standards of the hospitality sector and related fields.
"UTM needs to provide a solid students' resume to fulfill the vacancies in CGPV and also needs to be responsible for ensuring the students who participate in the program take Chinese language (Mandarin) courses to enable them to communicate effectively and to increase the market value of UTM graduates," he said.
Meanwhile, Datuk Md Othman said, the bilateral cooperation is a response by CGPV to the edict by HRH Sultan Ibrahim Ibni Sultan Iskandar to ensure the Forest City project provides various job opportunities, in particular to the local community.
He cited, the MoU is the beginning of a long-term development plan in promoting inclusion in the development of Forest City. The objective of this collaboration is to generate human capital quality through special education planning, industrial training and career development.
"The scope of the MoU includes the training of UTM PhD graduates as future leaders of CGPV and upon appointment, they will be placed in senior management positions which will kick start in December 2016," he said.
CGPV will recruit degree graduates of UTM to fulfill job vacancies at Forest City, particularly in engineering and business administration and is estimated to receive practical students who will join the first group to undergo industrial training in CGPV in February 2017.
"It is our priority to ensure that the economic gains from construction of Forest City is equally enjoyed by all segments of society in Malaysia, especially in Johor.
"We hope with the exchange of expertise between UTM and CGPV, we will produce graduates of better quality and competitiveness to raise their marketability," he explained.