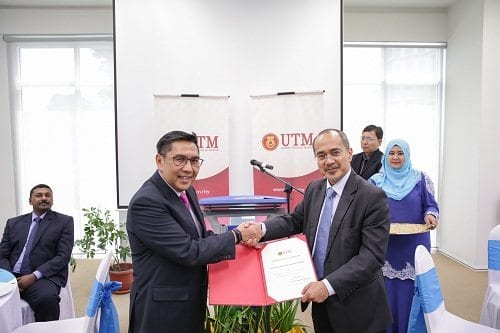 KUALA LUMPUR, 8 AUGUST 2016 – UTM International Business School (UTM IBS) formally announces the appointment of Dato' Sri Azharuddin Abdul Rahman, Director General, Department of Civil Aviation Malaysia (DCAM), as an Adjunct Professor at UTM IBS effective from 15 April 2016 to 14 April 2017.
As an Adjunct Professor, he is instrumental in helping strengthen the MBA curriculum with a specialization in Aviation Management at UTM IBS. The program intake will begin in September 2016 including courses such as Airline Operations, Airport Operations, Aviation Safety Management System, Aviation Accident Investigation, Human Factors in Aviation Safety and Maintenance, Aviation Crisis Management, Crew Resource Management and Business Research Project. 
On the same occasion, IBS also launched its MBA programme with special focus in Aviation Management that has never been offered by any university in the region. This MBA programme will provide highly competent professional workforce in the field of aviation that will meet local and international market demands.
This programme was meticulously designed and structured in accordance to the International Civil Aviation Organization (ICAO) requirements to ensure it meets international standard for potential local and foreign candidates. Thus, graduates of this MBA program will be highly marketable, locally and internationally.