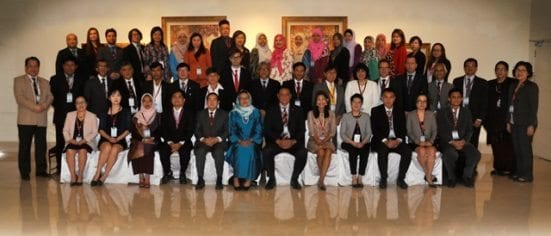 Kuala Lumpur, 27 April 2016 – Universiti Teknologi Malaysia (UTM) and the Ministry of Higher Education Malaysia (MOHE) today welcomed over 60 senior officers and representatives of regional organisations across Southeast Asia to Kuala Lumpur for a workshop on ASEAN higher education.
The workshop, held at the Berjaya Times Square Hotel, was jointly organised by UTM and MOHE. Participants of the workshop discussed on implementation of the Kuala Lumpur Declaration on Higher Education. Malaysia proposed the declaration in conjunction with its chairmanship of ASEAN in 2015.
The declaration was adopted by the Heads of States or Governments of ASEAN member states during the 27th ASEAN Summit on 21 November 2015 in Kuala Lumpur.
Datin Paduka Siti Hamisah Tapsir, the MOHE Deputy Director General (Public Higher Education Institutes), who spoke on behalf of Dato' Prof. Dr. Asma Ismail, the MOHE Director General of Higher Education during the opening plenary said that higher education holds the key for ASEAN's economic development. ASEAN should work collectively in empowering all of its 6,000-over institutions of higher learning to achieve excellence.
This can be done through a harmonised quality assurance structure, credit transfer mechanisms, support systems for students and academics in learning, teaching and research, as well as a strengthened provision of technical and vocational education and training (TVET) for ASEAN's growing economic needs.
Malaysia is ready to drive regional initiatives in student and staff mobility and TVET, as well as supporting the region in capacity building initiatives on quality assurance.
Prof. Dato' Dr. Mohd Ismail Abd Aziz, the UTM Deputy Vice Chancellor (Student Affairs and Alumni) who is also the project leader representing UTM, said that the declaration reflects Malaysia's leadership in ASEAN higher education, and commitment in sharing best practices with other ASEAN member states.
Commenting on the declaration, he explained that declaration is a cross – institutional effort involving experts and practitioners from various organisations. He would like to thank two key enablers, Prof. Dr. Azirah Hashim, Executive Director of Asia-Europe Institute (AEI), Universiti Malaya (UM) and Prof. Dr. Wahid Razzaly, Deputy Vice Chancellor (Academic and International) of Universiti Tun Hussein Onn Malaysia (UTHM) for their support and commitment throughout the project.
During the workshop, representatives from the Education, Youth and Sports Division (EYSD) of the ASEAN Secretariat, the ASEAN University Network (AUN), the EU-Support to Higher Education in ASEAN (EU-SHARE), the ASEAN Quality Assurance Network (AQAN), the Southeast Asian Ministers of Education Organisation – Regional Centre on Higher Education and Development (SEAMEO-RIHED) and the Regional Cooperation Programme to Improve the Training of TVET Personnel (RECOTVET) were also present to share their experience, current initiatives and vision on ASEAN higher education.
A welcoming dinner was also held for the participants, hosted by Berjaya University College of Hospitality. Among the guests of honour include Dato' Seri Idris Jusoh, the MOHE Minister, Datuk Mary Yap Kain Ching, MOHE Deputy Minister, Dato' Prof. Dr. Asma Ismail, MOHE Director General for Department of Higher Education and Prof. Datuk Ir. Dr Wahid Omar, the UTM Vice Chancellor.