A UTM delegation, led by the UTM Vice-Chancellor,Prof. Datuk Ir. Dr. Wahid Omar, recently attended the APAIE Conference and Exhibition 2016 in Melbourne, Australia, which was held from February 29th to March 4th, 2016.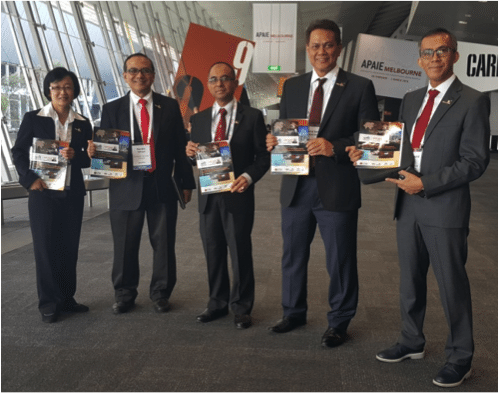 Accompanying the Vice-Chancellor were Prof. Dato' Dr. Mohd Ismail Abd Aziz, UTM Vice Chancellor (Student Affairs and Alumni); Mr. Yazid Hamid, the CEO of Education Malaysia as representative from the Ministry of Higher Education, Malaysia; and Assoc. Prof. Dr. Lee Chew Tin, the Director of Global Education from UTM International, and Prof. Dr. Nordin Yahaya, Senior Director, UTM International who was the Chairman of the bidding committee for Malaysia team.
The objective of the visit was twofold. Firstly, being one of the 3 finalists bidding to host APAIE 2018, the UTM delegation made their pitch to host APAIE 2018 in Kuala Lumpur. Secondly, UTM was also there to enhance the visibility of the university. 
UTM showed outstanding leadership by bringing together a consortium of 24 Malaysian universities to support the bidding quest. With full support from Education Malaysia Global Services (EMGS) and the consortium of Malaysian universities, for the first time Malaysia has its Country Booth realized in the APAIE Conference & Exhibition 2016, with the active participation of a total of 14 Malaysian universities in the conference, exhibition and the speaker sessions.
UTM also presented three papers at APAIE 2016 as follows:
1.Enhancing the Student Development Agenda through International Mobility Programs: Malaysia Perspective by Prof. Dato' Dr. Mohd Ismail Abd Aziz
2.Structure Short-term Programs as a Driver for Global Immersion at Home by Assoc. Prof. Dr. Lee Chew Tin
3.Has Study Abroad Done What Many Thought It Can Do? by Prof. Dr. Nordin Yahaya
UTM will continue to play a pivotal role to enhance the visibility of Malaysian universities at the international education platform.
APAIE is an international non-profit organization for promoting international education centered on academic field. The event has attracted increased participants over the last decade for representatives from academic institutions and industry related to academic to meet and communicate directly.