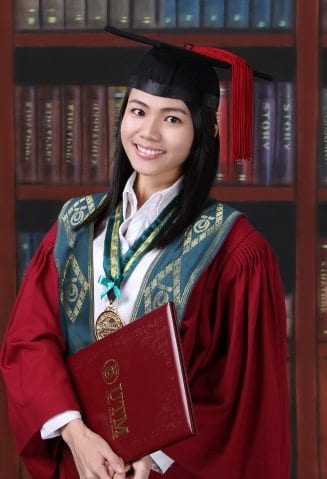 JOHOR BAHRU, 13 January 2016 – Kew Si Na, a UTM Bachelor of Science with Education (TESL) student, has been selected as the recipient for the 2015 Undergraduate Achievement Scholarship from the Golden Key International Honor Society, which comes with a USD 5,000 Golden Key scholarship.
She was also  a recipient of the Vice-Chancellor Award at the UTM 55th Convocation Ceremony.
The 2015 Undergraduate Achievement Scholarship recognizes Golden Key members for their excellence throughout their undergraduate studies both in their academics and extra curricular activities. Additionally, this award also takes into account the individual's  leadership ability and involvement in community services.
Kew Si Na has actively participated in many activities organized by clubs and associations of UTM. Among them is her active participation in the Golden Key Malaysia conference and workshop entitled "Think Big, Act Global" of which she was one of the conference committee members under the guidance of Datuk Prof. Dr. Mohd Tajuddin Hj Ninggal.  She was also involved in the AIESEC exchange programme 2014 "Embrace Taiwan- Explore Colorful Culture" where she gained the opportunity to visit Taichung, Taiwan and did community service there for six weeks. In another exchange programme at Ajou University (Korea) International Summer School 2013, Si Na had the  opportunity to visit Korea for five weeks and in 2013, was offered another opportunity to become an exchange student of practical teaching in Indonesia for one month. Her involvement in these exchange programmes not only provided her with a wide range of perspectives of the varied cultures of Asia but these experiences also taught her valuable lessons in life and made her a highly independent and positive risk-taker as well as a good leader.
She was also an active university sports woman, and represented the university in Badminton and Taekwondo. She participated in the Badminton competition in the 2012 UTM Games and MASUM 2014.
Despite her busy schedule, she was on the Dean's list throughout her four-year studies in UTM. Presently, she is pursuing her postgraduate studies at the UTM Faculty of Education majoring in Educational Technology. She is currently the Vice President of the Young Malaysians Movement (YMM) and the Deputy Secretary of Extreme Youth Society.
The Golden Key International Honor Society (formerly Golden Key National Honor Society) is an Atlanta, Georgia-based non-profit organization founded in 1977 which recognizes academic achievements among college and university students in all disciplines.
Golden Key has over 400 chapters at colleges and universities in eight countries, namely, Australia, Canada, India, Malaysia, New Zealand, South Africa, The Bahamas and the United States. Membership into Golden Key is offered to undergraduate and graduate students recognized to be among the top 15% of their class, either by overall grade performance or by an alternative standard approved by Golden Key's International Leadership Council. Refer to the website of Golden Key: https://www.goldenkey.org/scholarships-awards/scholarship-recipients/