KOTA KINABALU, 1st. June 2015 – Universiti Teknologi Malaysia (UTM) will receive a total of RM3 million contribution from Takasago Thermal Engineering Co., Ltd. (TTE) within a 5-year duration to establish a new research lab.
The sponsorship worth RM600,000 (JPY20,000,000) annually for 5 years, aims to establish a new Research Lab that will strengthen education and research activities at the Malaysia-Japan International Institute of Technology (MJIIT) in UTM which will be implemented through the "i-Kohza" System. "i-Kohza" is a Japanese based education which integrates a Japanese mentorship style of teaching with the innovative infusion between Japanese an Malaysian values.
The Education and Research Fund will support the establishment of a new Research Lab as well as providing grants for research and development activities to promote academic research and scientific technology in Malaysia and ASEAN.
In addition, the grant will also encourage a wide range of education and research activities in MJIIT, with a view to contributing towards industrial advances, human resources development, and strengthening of international cooperation in Malaysia and ASEAN.
The sponsorship was announced by the Executive Director of TTE, Mr Emio Taniguchi at the Memorandum of Agreement (MoA) signing ceremony between MJIIT and TTE at The Magellan Sutera Resort, Sutera Harbour Resort, near here, today.
Vice-Chancellor UTM, Prof. Datuk Ir. Dr. Wahid Omar represented MJIIT and TTE was represented by its Executive Director, Mr. Emio Taniguchi. The signing ceremony was witnessed by the Minister of Tourism, Culture and environment of Sabah, YB Datuk Seri Panglima Masidi Manjun.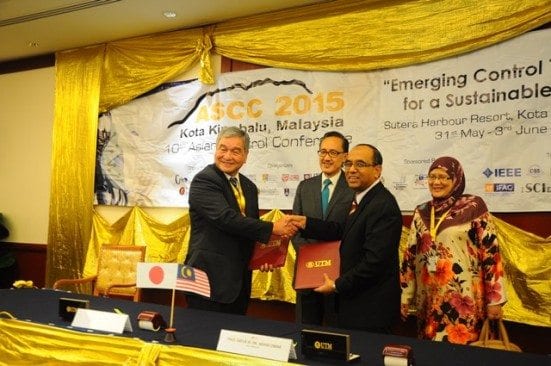 The The signing ceremony was held in conjunction with the 10th Asian Control Conference (ASCC2015) to be held in Kota Kinabalu from 31 May to 3 June 2015.
1. Fund for the Establishment of a Research Lab
MJIIT and TTE will establish a Research Lab named "TAKASAGO Thermal/Environmental Systems (TTES) Research Lab – For Sustainable Development by Low Carbon and Energy Saving Technologies".
The Research Lab will focus on fields of renewable energy and energy saving technologies. It will encourage education and research activities related to energy issues in Malaysia and ASEAN, by making a paradigm shift from a society dependent on natural resources, in collaboration with other Research Lab providing research, to promote the fundamental researches on the efficient usage of residues.
Research Labs at MJIIT are implemented based on a system called "i-Kohza", which was named after Kohza, which is a Japanese word for a Japanese-style research lab group comprising both postgraduate and final year undergraduate students. The emphasis is on the unique Senpai-Kohai relationship or mentor-mentee concept, encouraging strong collaboration and continuous guidance between students and academics. "TAKASAGO Thermal/Environmental Systems (TTES) Research Lab" will be positioned as one of the i-Kohza centres at MJIIT.
2. Fund for TAKASAGO Education and Research Grant
The Grant is aimed at contributing to industrial advances, human resources development, and strengthening of international cooperation among Malaysia, ASEAN and Japan.
The Grant will support education activities for the cultivation of human resources by subsidizing investigation research, science and technology research and research development by MJIIT academics, for the development of industries and economies of Malaysia and ASEAN.
It will cover a wide range of academic activities and basic research related to science/technology at MJIIT, including
(1)international mutual understanding and economic cooperation,
(2)protection of global environment,
(3)basic research on promoting energy conservation and renewable energy,
(4)healthy youth development.
The projects to be supported by the grant will be selected annually by the respective Committees with members from both TTE and MJIIT.
MJIIT was established in 2010 as a joint venture between the governments of Malaysia and Japan to offer a Japanese-style education at the Kuala Lumpur Campus of Universiti Teknologi Malaysia (UTM).
MJIIT offers an affordable, world-class education, which aims at educating future leaders within ASEAN countries. The Malaysia-Japan International Institute of Technology is expected to play an important role in helping Malaysia become the hub of higher education in ASEAN countries.
MJIIT aims to achieve innovative research/education from the perspective of Malaysia's conventional research and educational culture; instruction on basic knowledge of engineering, emphasis on practical/experience-oriented training, encourage student's voluntary participation in research and educational activities, emphasis on the relationship between Senpai (Mentor, Senior) and Kouhai (Mentee, Junior) by introducing i-Kohza system and suggestion for team play/transfer of academic achievements based on the concept of the relationship.