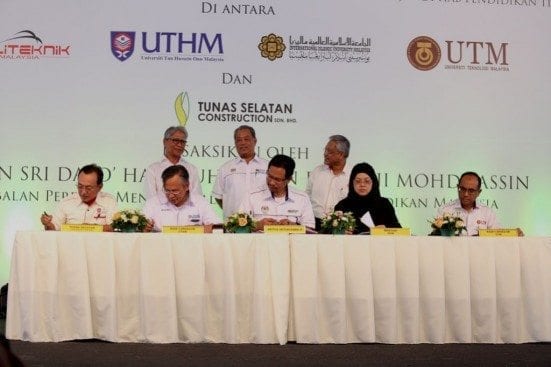 PAGOH, May 20 – Vice-Chancellor of Universiti Teknologi Malaysia (UTM), Prof Datuk Ir Dr Wahid Omar has signed a Memorandum of Understanding (MoU) for the construction of Student Residences at the Pagoh Higher Education Hub. Pagoh Higher Education Hub is part of the development of Bandar Baru Universiti Pagoh.
The agreement was signed jointly with the Vice-Chancellors from Universiti Tun Hussein Onn (UTHM) and the International Islamic University Malaysia (IIUM), with the Malaysia Ministry of Education and  Tunas Selatan Construction Sdn. Bhd., the developer of the project.
Tunas Selatan was represented by its Executive Chairman, Tan Sri Mohamed Esa, while the Ministry of Education was represented by the Secretary General II, Dato ' Seri Ir Dr Zaini Ujang.
The signing was witnessed by the Deputy Prime Minister, who is also the Malaysia Minister of Education, Tan Sri Haji Muhyiddin Haji Mohd Yassin. UTM's signed MoU document was then presented to Tan Sri Dato' Mohd Ramli bin Kushairi, the Chairman of UTM Holdings Sdn Bhd.
Also present at the ceremony were the Chairman of the UTM Board of Directors, Tan Sri Halim Ali, Deputy Vice-Chancellor for Development, Prof. Dr. Azlan Abdul Rahman and senior officials of UTM.
The Deputy Prime Minister said that the planned student residential development will accommodate 7,000 students. Construction of the residential colleges was not included in the initial Pagoh Higher Education Hub construction agreement endorsed by the Cabinet in 2011.
The residential colleges will be built using the Public Private Partnership (PPP) model, where Tunas Selatan Construction Sdn. Bhd. will develop the residential colleges, while the public universities involved will be responsible for making financial loans for the purchase of the college.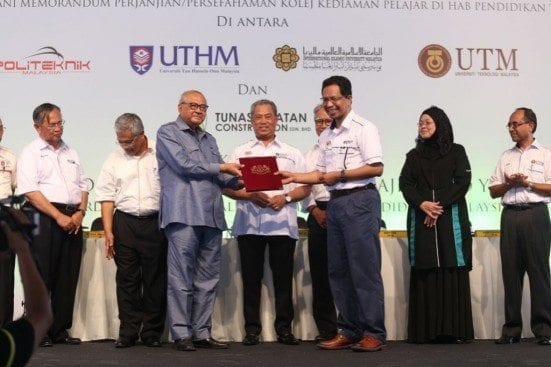 In addition to the student residential colleges, two categories of staff housing, one priced below RM200,000 and another one priced above RM200,000, will also be built to provide opportunities for staff to own  homes.
Imperial College London,  a world renowned University, has also agreed to collaborate with UTM at the Pagoh Higher Education Hub. The collaboration will be in the form of setting up an advanced automotive lab.
UTM Holdings Sdn Bhd will also be playing a significant role in the development of the Pagoh Higher Education Hub through several initiatives involving the building of  laboratories and development of a sub-critical water reactor – waste management solution for use with UTM and the Malaysia-Japan International Institute of Technology (MJIIT).
The construction of these laboratories will make Pagoh Higher Education Hub a leading center for green technology, contributing towards making Pagoh a world-class center of higher education.