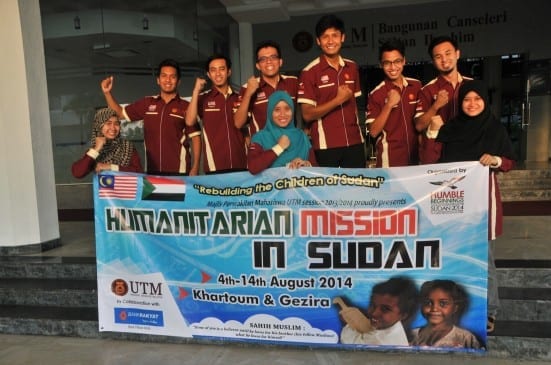 JOHOR BAHRU, 4 August – Nine Student Representative Council members of Universiti Teknologi Malaysia (MPMUTM) will be leaving for Sudan today to carry out a humanitarian mission.
Program Director, Nadhirah A Khalim said, they will be in Sudan for 10 days to deliver aid to orphans, school children and patients in Gezira Hospital which is approximately three hours' drive from Khartoum.
Assistance provided are in the form of school bags, stationery, al-Quran, clothes and cash.
"We will visit two hospitals in Gezira to deliver financial aid not only to needy patients, but also to the hospital management in order to assist them in purchasing medical supplies."
"We also intend to visit Mygoma Orphange which is home to approximately 300 abandoned children. There, we will contribute clothes and cash," she said.
"Besides humanitarian aid, we will also organize programs to enhance school children's awareness of their roles in developing the future of their country."
According to Nadhirah, Sudan was selected as it is a country in the African continent with a high rate of poverty and illiteracy. In fact, according to the Global Hunger Index 2013 Report, Sudan has been ranked fifth in the Global Hunger Index.
"This humanitarian aid program has been made possible through collaboration between MPMUTM, UTM Alumni, particularly those originating from Sudan, as well as the Sudanese government."
The humanitarian program is funded by public donations, Bank Rakyat and Universiti Teknologi Malaysia (UTM).