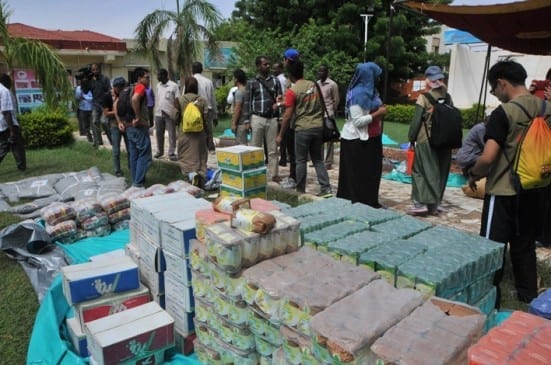 KHARTOUM, 6 August – Universiti Teknologi Malaysia (UTM) students carried out a humanitarian mission to deliver aid to flood victims in Gezira, Sudan, today.
Program Director, Nadhirah A Khalim said that although delivering aid to flood victims was not initially planned, UTM students decided to assist the victims after their plight was highlighted by the Malaysian Charge de'Affaires, Ahmad Shazril Suhaimi, following a visit to the embassy yesterday.
"Assistance in the form of food such as flour, sugar, milk, oat and rice, as well as canvas for shelter, clothes and cash were distributed to 207 families using part of the funds available in carrying out the humanitarian aid mission in Sudan," she said.
The journey to Gezira took about three and half hours from Khartoum.
Meanwhile, President of the Sudanese Student Union, Nile El Fadel said, about 2,000 houses most of them made of mud brick had been damaged by the flood, which occurred a week ago.
"We are thankful to UTM students for helping the flood victims. We will get 25 volunteers from various universities in Khartoum to disseminate the aid," he said.