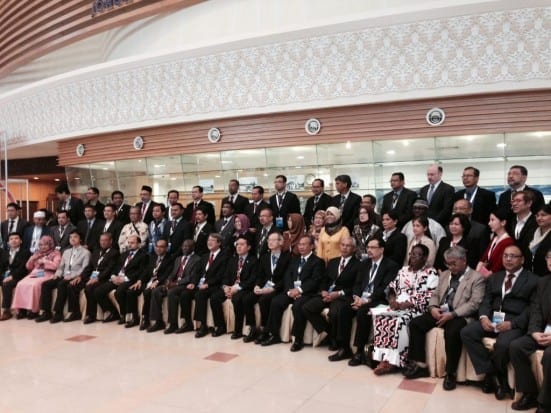 JOHOR BAHRU, 22nd May, 2014: – Universiti Teknologi Malaysia will be holding their annual University Presidents Forum (UPF) at the Persada Johor International Convention Centre from 21 to 23 May 2014. This forum has attracted the participation of more than 30 Universities across the globe.
The theme of the 2014 UPF Forum is "Global Collaboration Opportunities in Knowledge Creation and Innovation". The aim is to promote new and fresh dimensions to knowledge advancement across disciplines and beyond boundaries, where the application and approach to knowledge creation and innovation happen in a more dynamic, vibrant and enriching way based on smart partnerships and meaningful engagements. The event will include keynote speakers and a panel discussion on "Human Capacity Building of ASEAN Countries through International Collaboration"
In a knowledge intensive society, universities now play a significant role beyond conventional paradigms, to include social and economic development without undermining the development of the soul. Focused on the discovery of new knowledge and the development of the next generation of scholars, universities are also becoming more international in focus.
These "globalised" universities are characterized by an intensity of research and are engaged in worldwide competition for students, faculty, staff, and funding; they operate in an environment in which traditional political, linguistic, and access boundaries are increasingly seamless. These top universities look beyond the boundaries of the countries in which they are located to define their scope as trans-national in nature.
The UTM University Presidents Forum will bring together senior representatives from leading universities from across the globe to address these issues and to develop active collaborative opportunities.
The Forum will be opened by the UTM Vice Chancellor, Prof. Ir. Dr. Wahid Bin Omar. Keynote presentations and panel discussions will be led by the Vice Chancellor of UTM, Professor Mark Spearing, Professor Vice Chancellor (International) of Southampton University, UK, President Prof. Duck Ho-Lim, President of Hanyang University, Korea, Professor Michael Adewumi, Vice-Provost (Global), Pennsylvania State University, USA,  Professor Masato Murakami, President, Shibaura Institute of Technology, Tokyo, Japan, and Dr. Jennifer Ziriakus, Head of Education and Research (Chemistry), German Institute of Science and Technology (GIST-TUM Asia).
The Forum will facilitate engagement and networking among 50 participants representing a diverse range of universities from several countries including Japan, Germany, Indonesia, UK, Korea, Pakistan and Singapore.
A guided tour to the Educity of Iskandar Malaysia has been arranged for the delegates as part of the event.