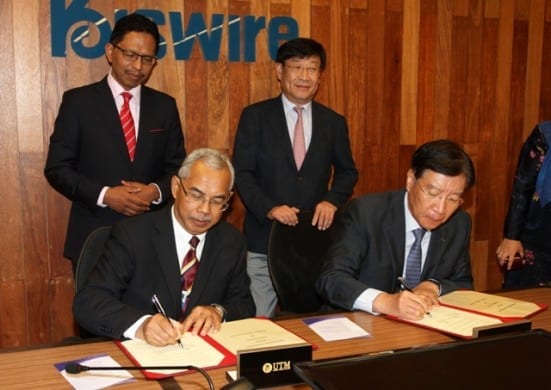 JOHOR BAHRU, 15 Aug 2013: Kiswire Malaysia contributes RM 3 million to Universiti Teknologi Malaysia (UTM) Endowment Fund in conjunction with the establishment of a Professorial Chair at the university.
The leading producer of special steel wire from South Korea and UTM have agreed to establish a Kiswire Chair Professor in Metallurgy and Manufacturing in order to strengthen cooperation in the related fields.
The establishment of the Professorial Chair will ensure that research activities conducted by UTM researchers at Kiswire in the areas of Metallurgy & Manufacturing can be undertaken sustainably.
Kiswire Chairman of Kiswire Ltd. Korea, Mr Hong Young-Chul presented the contribution to the Deputy Vice Chancellor (Research and innovation), Prof. Ir. Dr. Mohd Azraai Bin Kassim at Kota Kiswire, near here today.
At the same event, Executive Vice President Kiswire, Mr Park Chang Hee and Prof. Ir. Dr Mohd Azraai signed the memorandum of understanding (MoU) to extend the cooperation for a further five years.
Collaboration between UTM and Kiswire Malaysia has been established through the conduct of joint research, staff development by pursuing postgraduate qualifications at UTM and UTM staff attachment at Kiswire; and providing scholarship to undergraduate students studying at UTM.
The cooperation between both parties was strengthened when Mr Hong Young-Chul and Kiswire Malaysia senior officers visited UTM in April 2013.
Kiswire Malaysia was established in Malaysia in 1989 and is affiliated to Kiswire Ltd. whose headquarters is in Seoul, Korea. It is a global leader in the special steel wire industry with over 70% of sales generated in overseas markets.
Kiswire Malaysia has production facilities in Pasir Gudang and Tanjung Langsat Industrial Complex and an R&D center in Kota Kiswire here in Johor Bahru.