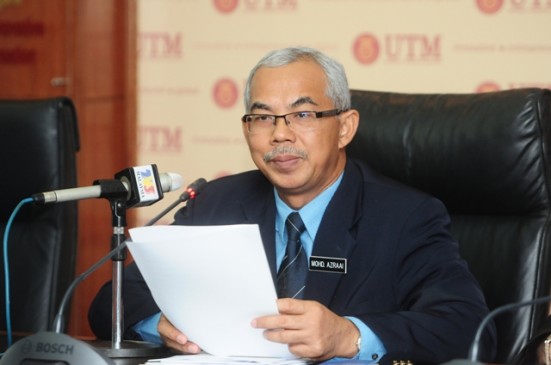 JOHOR BAHRU, 14 June 2013: A delegation from UTM, headed by acting Vice Chancellor of UTM, Prof. Ir. Mohd. Azraai Kassim will be participating at the 6th International Conference of Massachusetts Institute of Technology (MIT) Learning International Networks Consortium (LINC) 2013, to be held on June 16-19, 2013 at Cambridge, Massachusettes.
An important development in conjunction with the event will be the signing of MOU between UTM and MIT on Sustainable Cities Fellowship Collaboration, aimed at furthering research and education related to sustainable city development to build a global network of urban and environmental planning faculties from universities around the developing world.
The signing of the MOU will be between the Vice President of MIT, Israel Ruiz and Prof. Azraai Kassim on behalf of UTM, witnessed by Dato'Seri Zaini Ujang, Secretary General ll, Ministry of Education.
The participation in LINC 2013 is in line with the notion of New Academia adopted by UTM where new and fresh dimensions to learning innovation is adopted towards creating an ecosystem that can inculcate entrepreneurial and innovative mindsets, encourage creativity, create new employment opportunities and prepare graduates with the right capacity and experience to compete in this increasingly challenging and competitive environment.
Through a student centric and blended learning environment, the UTM New Academia Learning Innovation has been implemented to create the basis for a new and dynamic paradigm with its own identity of teaching and learning models, activities, materials, systems and environments based on UTM collaboration with world-leading universities such as MIT and Harvard University.
Through LINC for example, UTM is part of an international community of individuals and organizations that focuses on higher education in emerging countries, and the role that technology can play in expanding educational reach. It is a collaboration of educators from around the world whose purpose is to share best practices in meaningful and impactful ways.
Collaborating through LINC helps build on-the-ground expertise and virtual distance learning communities in each of the respective countries seeking such assistance. The focus is not merely on the narrow engineering aspects of technology but on pedagogical issues, educational content, and organizational issues, for instance.
As such, UTM has been involved with open courseware consortium pioneered by MIT to strengthen a conducive learning environment. Open CourseWares (OCW) consists of high-quality digital learning-based courses offered at UTM. A total of over 100 open courses have been developed and given the intellectual property right in 2012.
The complete learning materials of the OCW include lecture notes, lesson plans and training questions that all Internet users can access. More than 20,000 hits have been recorded since its launch in March 2012. Visitors to this site consist of various countries among others including the USA, Singapore, India, Philippines and Indonesia.
In addition to that, UTM in collaboration with MIT has implemented the UTM-MIT BLOSSOMS (Blended Learning Open Source Science or Math Studies)  project to enhance interest among undergraduates and even postgraduates in science, mathematics, engineering and technology through interesting, stimulating and enriching learning experience that engage students in problem solving and critical thinking, and help students acquire knowledge through hands-on experience.