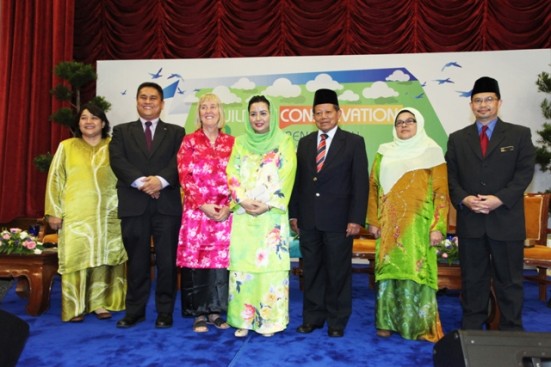 JOHOR BAHRU, 2 April – The immense value of Malaysia's biodiversity can only be maintained if each member of society plays a part in mitigating the impact of human activity on the ecosystem, with emphasis on enforcement and regulation, scientific discovery, harmonious coexistence between science and religion as well as education, and awareness among the public, in particular school-going children and university students.
The panelists of the forum entitled "Save Wildlife, Save Lives: Towards Sustainable Living" were unanimous on the need to inspire and empower the younger generation as agents of change towards the conservation of wildlife in the country, and called for greater engagement between government agencies, organizations, corporate bodies as well the public on initiatives which would safeguard nature's greatest creations from exploitation and extinction.
The forum was held in conjunction with the Wildlife Conservation Awareness Day at the Persada Johor International Convention Centre, co-organised by UTM and Johor Corporation, with strong support of the Department of Wildlife and National Park, Department of Forestry, Kulim (Malaysia) Berhad, Perbadanan Taman Negara, Malaysian Nature Society, Wildlife Conservation Society, and Kulim Wildlife Defenders
Tan Sri Salleh Mohd Nor FASc, who is also the UTM Pro-Chancellor, moderated the forum. A distinguished list of panelists shared their insights and experiences with a 400-strong crowd consisting of representatives from schools and government agencies.
Among the panelists include Her Royal Highness Raja Zarith Sofiah binti Almarhum Sultan Idris Shah, the UTM Chancellor; Professor Margaret Lowman also known as "Canopy Meg", who is Director of the Nature Research Centre in North Carolina Museum of Natural Sciences, USA; Prof. Dr. Maketab Mohamed, President of the Malaysian Nature Society; Pn. Salasah Elias, Senior Manager of Kulim (Malaysia) Berhad and Pn. Siti Hawa Yatim from the Department of Wildlife and National Park.
The panelists discussed on a broad range of topics such as education and outreach programmes, impact assessment of human activity on the environment, the human-wildlife and human-economic development conflict faced by societies locally and internationally, as well as the tangible and intangible benefits of nature conservation.
At the end of the forum, Her Royal Highness Raja Zarith Sofiah led the 400-strong crowd in translating the critical points of discussion in the forum into action by pledging the Johor Royal family's utmost support towards wildlife conservation in the State of Johor.
Her Royal Highness also called for innovative collaboration between UTM and Johor Corp in enabling students to show their passion towards wildlife through impactful projects and international learning opportunities with Prof. Lowman's Nature Research Centre in the USA.
An essay writing competition on the importance of conserving our wildlife and environment towards sustainable living will be organised among school students in Johor, where winning essays of 12 students will be chosen. Accompanied by 4 educators, these students will have the opportunity to travel to the USA as a motivation for the younger generation in their environmental pursuits towards sustainable living.