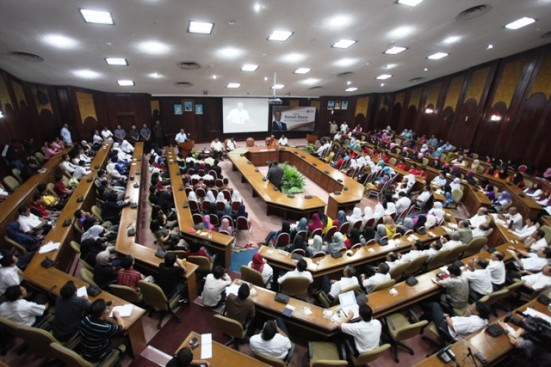 JOHOR BAHRU, 23rd. June 2012: – Universiti Teknologi Malaysia (UTM) and Technology Park Malaysia Engineering Sdn. Bhd. (TPM Eng.) have embarked in a collaboration effort to develop the first Malaysian‐made 3-axis Table‐top Computer Numerical Control (CNC) machine.
As part of the collaboration, a memorandum of understanding (MoU) between the two organizations was signed today at UTM by the Vice Chancellor of UTM, Professor Datuk Dr Zaini Ujang and Director of TPM Eng. Tn Hj. Aggus Salim Halmi Haidar.
The signing ceremony was witnessed by the Deputy Prime Minister of Malaysia, YAB Tan Sri Dato' Sri Hj Muhyiddin b. Hj Yassin and Minister of Higher Education, Dato' Seri Mohamad Khaled Nordin.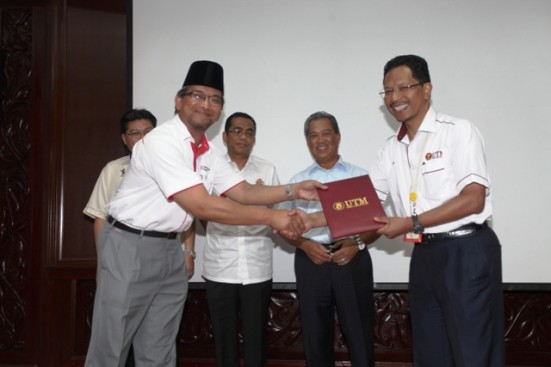 The 3-Axis Table Top CNC system is composed of electronics, real-time interfacing and mechanical design technology where with simple yet innovative integration technology, the first complete functioning prototype is fully developed.
The system running on Contec Motion card platform is capable to machine medium complexity of 3-D products which make it suitable for first exposure to CNC technology.
This very effective cost for medium range CNC system is a long-awaited solution for expensive vocational training on the manufacturing technology at many technical-based training institutes and small medium industries (SMI) in metal-sheet technology.
The machine is produced to fulfill the requirement for students at technique and vocational school or institution.
The technology will also help the small and medium sized industries to grow their scale of production in a much cheaper. The machine is used to produce manufacturing material on metal based.
A few of the distinguishing features of the system include:
–          3-Axis motion driven by closed-loop control stepper motors
–          Window based and user-friendly Graphical User Interface (GUI)
–          Custom-made application software for real-time operation and interfacing
–          3-Axis Milling Procedures using standard CNC program codes (up to 10,000 lines)
–          An interactive CNC code editing environment with colour coded checking and feedback
–          Contec SMC-4DF-PCI Motion controller card  (CoF)
–          High resolution encoder feedback
–          Input support for first-time CNC programmers
–          Anti-vibration mechanical support