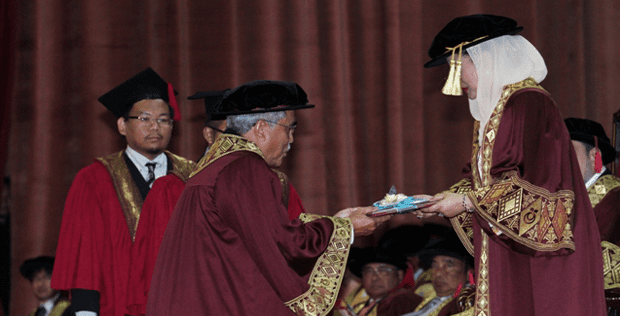 Johor Bahru,  7 May – Prof. Dato' Dr. Ar. Elias @ Illias Salleh received the UTM's Professor Emeritus at UTM 50th Convocation Ceremony. Prof. Dato' Dr. Ar. Elias @ Ilias Bin Salleh was born in June 8th, 1948, holds a Diploma in Building Design (1969), a professional Diploma in Architecture (1973), a Master in Building Science (1981) and a Doctor of Philosophy in Environment and Energy (1994).
He is a Professional Architect who had served in various academic capacities in local public universities since 1973.  He had served Universiti Teknologi Malaysia (UTM) from 1973 to 1999, before being appointed as a Deputy Vice Chancellor of Universiti Utara Malaysia (UUM) from 1999 to 2003 on secondment. Upon mandatory retirement in 2003 he then served Universiti Putra Malaysia (UPM) as Professor of Architecture until 2011 and later in May 2012 he joined Universiti Kebangsaan Malaysia (UKM) as Principal Research Fellow.
He held various positions at UTM namely as the Head of Department of Architecture, Deputy Dean and the Dean of the Faculty of Built Environment  when the university made its first move to its new Skudai Campus in 1985.  Subsequently, he was entrusted with the establishment and operations of the Bureau of Innovation and Consultancy (BIP) and Uni-Technologies Sdn Bhd (a company wholly-owned by UTM) as well as the development of the Technovation Park UTM, including its Innovation Centre.  In 1995 Dato' Elias was responsible for the initial planing and development of UTM Technovation Park, a 80-acre park site, including the construction  of its first building, Pusat Industri.  All three (3) entities formed are part of UTM's effort to foster university-industry linkages in respect of technological innovations, entrepreneurship and incubator management as well as commercialization. The main partners were MARA and MTDC and among successful and notable achievements evolved from this is Sarjana Keusahawanan IT (SKIT), a postgraduate-cum-incubation program supported by MARA, MTDC Incubator, MARA Incubator, Program Pembangunan Kemahiran (PPK) and spin-off companies. Dato' Elias involved as consultant in the early planning of Technology Park Malaysia as well as Johore Technological Park and led BIP leads UTM initiatives joint-consultation with Kedah SEDC in establishing a technical university in Kulim Hi-Tech Park by forming a tripartite joint-venture company with Lembaga Tabung Haji with the allocation of a 50 acre site in KHTP. BIP was engaged in another multi-million project worth namely the Langkawi International University of Tomorrow, collaboration with various parties namely World Bank, Ministry of Entrepreneur Development and MoSTI.
He was seconded to Universiti Utara Malaysia (UUM) as the Deputy Vice-Chancellor (Development) and as Deputy Vice-Chancellor (Academic Affairs) until 2003. Again, Dato' Elias continued his brilliant achievements at UUM introducing techno entrepreneurship programmes and was also instrumental in the establishment of Uniutama Management Sdn Bhd, the university-owned company of UUM.
Dato' Elias commenced his Professor of Architecture role in Universiti Putra Malaysia (UPM) in 2003 to assist in the development and accreditation of its architectural programmes. During his tenure at UPM he graduated ten (10) PhD graduates and fourteen (14) Master graduates, besides being internal and external examiners to numerous postgraduate students locally and overseas. Additionally, he had been engaged as external examiner and/or panel member/board of studies for assessing architectural programmes in major local public universities (UM, UTM, USM, UiTM, IIUM, UKM, UMK). He was a member of Council of Accreditation and Architectural Education Malaysia – CAAEM (2007 –2010).
In 2008 he involved in the founding of the Malaysia Green Building Confederation (MGBC), an NGO which promotes sustainability in the Malaysian building industry, and was involved in the early discussions about green building rating system for Malaysia which resulted in the establishment of Green Building Index (GBI) in 2009.
In May 2012 he joined Solar Energy Research Institute (SERI) in Universiti Kebangsaan Malaysia (UKM) as Principal Research Fellow specialising in passive low-energy building design, which is the core of his research interest. He was a Non-Executive Independent Director of GPRO Technologies Bhd from 2004 to 2011, and is a Board member of Design Development Centre Sdn Bhd (DDEC Sdn Bhd), a MARA subsidiary company, since 2010. Dato' Elias was conferred AHLI MAHKOTA KEDAH (AMK) in 1994 and subsequently DARJAH SETIA DIRAJA KEDAH (DSDK) in 1999 by the Kedah State government. In 2004 he was conferred JOHAN SETIA MAHKOTA (JSM) by the Federal Government of Malaysia.