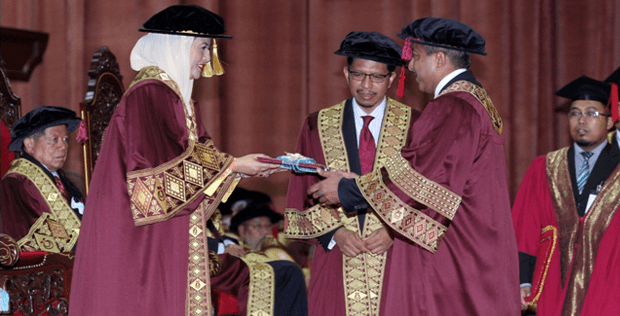 JOHOR BAHRU,  May 10 2013: Sapura Group President and CEO, Dato' Seri Shahril bin Shamsuddin was conferred the Honorary Degree of Doctor of Technology Management by Universiti Teknologi Malaysia (UTM), in conjunction with it's 50th Convocation Ceremony.
The Chancellor of UTM, Her Royal Highness Raja Zarith Sofiah ibni Almarhum Sultan Idris Shah presented the honorary doctorate  to Shahril at  UTM's 50th convocation here on Tuesday for his contribution and passion for technological development and nation-building.
Dato' Seri Shahril earned his Master of Science in Technology Management from the prestigious Massachusetts Institute of Technology's Sloan School of Management (MIT) and Bachelor of Science in Industrial Technology from California Polytechnic State University.  He has held several senior positions in the Sapura group since 1985.
He was appointed asSapura Group's President and Chief Executive Officer (CEO) on 9th December 2011. He was involved in technology-driven oil and gas services sector, technology and communications, development and management of real estate, automotive and manufacturing industries and education.
He is responsible for implementing the strategic transformation of the Sapura Group in line with the group strategies which saw the restructuring of the Group's financial division and the realignment of its business portfolio and growth. His astute ability to identify key business enablers saw him making key acquisitions of companies and associated technologies.