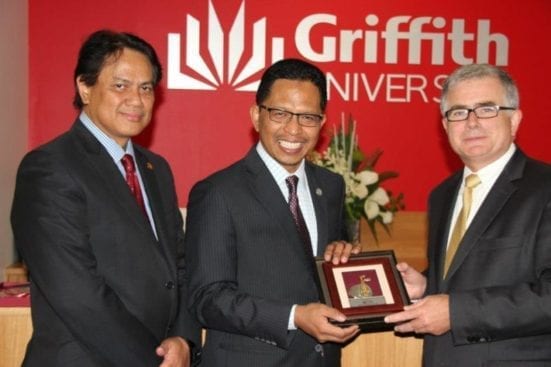 Photo from right to left: Ian O'Connor, President/Vice-Chancellor of   Griffith University, Prof. Dato' Seri Ir  Dr Zaini Ujang, Vice- Chancellor of UTM and Prof. Dr Mohd Ismail Abd Aziz, Deputy Vice-Chancellor of Student Affairs and Alumni of UTM

18 February 2013:  In a mission to seek potential high impact collaboration with the Innovative Research University (IRU) group in Australia, a UTM delegation headed by Vice Chancellor Prof. Dato Seri Ir Zaini Ujang visited Griffith University in the Gold Coast, a coastal resort city, about 72 km south of Brisbane Australia.
The Vice Chancellor was met by the top management of Griffith University, led by its Vice Chancellor, Professor Ian O Connor. In a roundtable discussion, both universities agreed to collaborate closely particularly in the area of Environmental Science and Nano Technology.
The two institutions also agreed to cooperate closely on student and staff mobility programmes. In response, Griffith University will send a leading researcher in the field of Nano Technology in April to UTM to discuss the details of the research collaboration to be implemented and cooperation programmes to be proposed.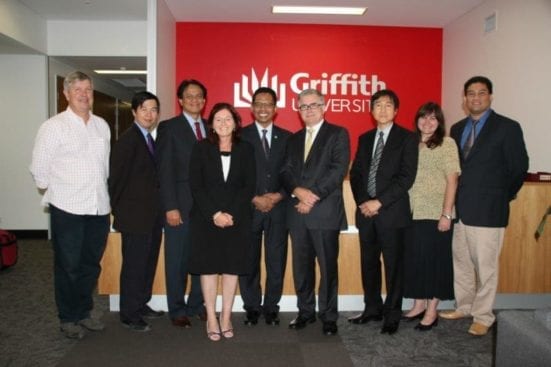 Griffith University is a comprehensive university, and a member of IRU network, a group of seven comprehensive universities conducting research of national and international standing. The IRU network has national reach, with an institutional presence in every mainland State of Australia and the Northern Territory.
It is one of Australia's largest multi-campus universities with a student population of 43, 000 students. A large delegation visited UTM in July 2012, and held serious discussions on intensifying collaboration with institutions in Malaysia.
The delegation from UTM was shown the River Water Research facilities and the Institute of Nano Technology Research where they held discussions with members of research centres on possible joint research research programmes and exchanges. The visit ended with a signing of Memorandum Of Understanding between the two institutions.
Prof. Zaini was accompanied the Deputy Vice Chancellor of Student Affairs and Alumni, Prof. Dr. Mohd Ismail Abd Aziz.