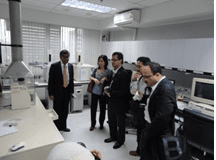 Bangkok : 28-30 January 2013 – In a mission to seek potential high impact collaboration with neighbouring national research institutes particularly in the area of Biotechnology, a group of 9 staff and researchers from UTM headed by The Deputy of Vice Chancellor (Research & Innovation), Prof Ir. Dr. Azraai Bin Mohd Kasim paid a working visit to  3 major institutions in Bangkok, Thailand.
The team set off to the long established Chulalongkorn which housed The Halal Science Centre. The centre provides halal forensic on products used by consumers by validating the products using  state of the art analytical equipments for further Halal certification by the local authorities. Halal Science Centre have also developed a novel system called Hall-Q which is a Halal food safety system that builds consumer confidence in Haram-free products by emphasizing on the maintenance of hygiene, safety, Muslim faith and responsibilities.
The second institution was an hour drive from the city of Bangkok is the National Centre for Genetic Engineering & Biotechnology, (BIOTECH) close to the Thamasat University. This institution carries a wide array of R&D activities such as agriculture, fermentation and food products with strong collaboration with the industry. It is sustainably well funded by the Thai's government to spear head the biotechnology industry in Thailand.
The final stop was King Mongkut's University of Technology Thonburi, located at the Bangkutien district, an hour's drive from the city of Bangkok. It hosts a Pilot Plant Development & Training Institute which has pilot plant facilities and the newly installed Bioprocessing Facility with cGMP standards for biomanufacturing activities. The pilot plant setups have close similarities with the Institute of Bioproduct Development of UTM in which is one collaborative effort have been discussed during the visit and expected to kick start  at the second quarter of this year.
The delegations from UTM consisting of Prof Dr Mohamad Roji Sarmidi, Prof Ramlan Aziz, Prof Dr Hesham Henshasy, Dr Chua Lee Suan, Dr Razaudeen, Pn Azizah, En Jaffrey and En Mohamad Saat were definitely impressed with the capability of the R&D institutes of our neighbouring country Thailand, the key success factor would narrow down to the right focus, niche and sustainable support from the government in terms of funding and a strong collaboration with the industry which in turn led into a complete ecosystem of university research and industry partnerships.
Source, IBD-UTM.