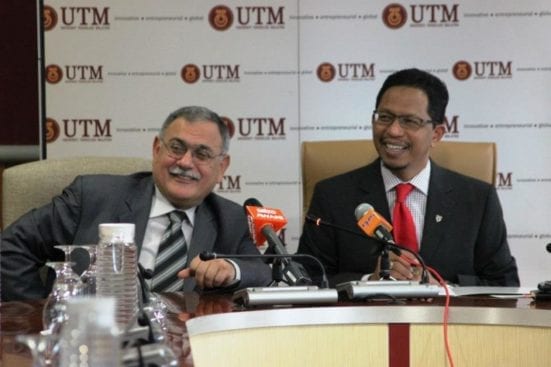 KUALA LUMPUR, 5 January 2013: Universiti Teknologi Malaysia (UTM) is offering scholarships to 10 academic staff of Islamic University of Gaza (UIG) to undergo postgraduate studies in various disciplines at the university.
The scholarship offer includes exemption in study fees for postgraduate studies at the Doctor of Philosophy (PhD) level.
UTM Vice-Chancellor, Professor Dato' Seri Dr zaini Ujang said, apart from that, UTM is offering the teaching assistantship scheme to 10 PhD students which offers a monthly allowance of RM1,600 a month for a period of four years.
"This offer of scholarship by UTM is in line with the call made by our Prime Minister, Datuk Seri Najib Tun Razak who expressed Malaysia's commitment to offer 100 scholarships for higher learning to the people of Gaza during his recent visit to the state.
"UTM is also giving fee exemption to six PhD students, 10 Master and 13 Bachelor students from Palestine currently undergoing studies in UTM involving a cost of RM1.3 million," he said.
The Vice Chancellor of UTM, Professor Dato' Seri Dr Zaini Ujang made the announcement during the welcoming reception of delegates from UIG headed by its President, Dr Kamalain Shaa'ath and spouse at his office in UTM Kuala Lumpur today.
He said, the scholarship offered by UTM is in the field of construction technology, sewerage and wastewater system and water supply to develop again the basic facilities which was destroyed during the invasion of the Zionist regime.
Apart from that, UTM emphasizes on educational and information technology for the people of Palestine for them to gain education and more quality communication and information  technology.
"Gaza is in need of skilled human capital to develop the country which has been torn to pieces resulting from the Palestine-Israel conflict which has been going on for quite sometime.
"The conflict which has been going on for quite some time has resulted in destruction of facilities and infrastructure at UIG, aimed towards complete annihilation of the Palestinian state by the Zionist regime," he cited.
The suffering of the people of Gaza has long attracted attention of non-government organisations (NGO), like Aqsa Sharif, which has continuously provided aid and is working closely with UIG to improve the livelihood of the Palestinian people. Assistance given comes from funding and contributions by the Malaysian people.
Aqsa Sharif, a close affiliate of UTM in humanitarian efforts has promised to award three scholarships to deserving Palestinian students, especially from Gaza to further their studies in UTM at PhD level in environment and renewable energy.
The effect of the use of chemical weapon by Israel has resulted in pollution of the environment, including water, air and soil which affects the health of the people of the country.