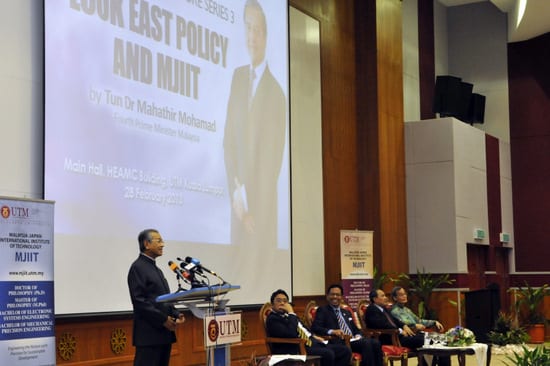 KUALA LUMPUR, 28 February 2013 – As a part of MJIIT Leadership Lecture Series, Y.A.Bhg Tun Dr. Mahathir Mohammad, Former Prime Minister of Malaysia, visited Malaysia – Japan International Institute of Technology (MJIIT), UTM Kuala Lumpur, delivered a lecture on Look East Policy (LEP ))and MJIIT. The lecture was attended by more than 500 people, including UTM Vice Chancellor, Prof. Dato' Seri Zaini Ujang, MJIIT students, UTM staff, and outsider.
Tun Dr. Mahathir shared his vision, ideas, expectations and challenges in pursuing the LEP, which was introduced by him in 1982. Through LEP, he urged Malaysians should not only learnt about Japanese technology but most important is practising Japanese value system .
MJIIT Leadership Lecture Series provide a platform for representatives from government and industrial circles to share their knowledge and experience.
These lectures serve to motivate MJIIT students to understand the social, cultural, global and environmental responsibilities of a professional engineer, and the need for sustainable development and that of managerial and entrepreneurial skills.
This is the third time of MJIIT Leadership Lecture Series conducted. The first MJIIT Leadership Lecture Series was given by His Excellency Prof. Masahiko HORIE, former Ambassador of Japan to Malaysian about Building a Strong Malaysian Brand.
The second Lecture Series was delivered by Datuk Takashi Hibi, Deputy Chairman of UNW Toyota Motor Sdn. Bhd. on Toyota production system at UTM Toyota Motor.
buy cialis online